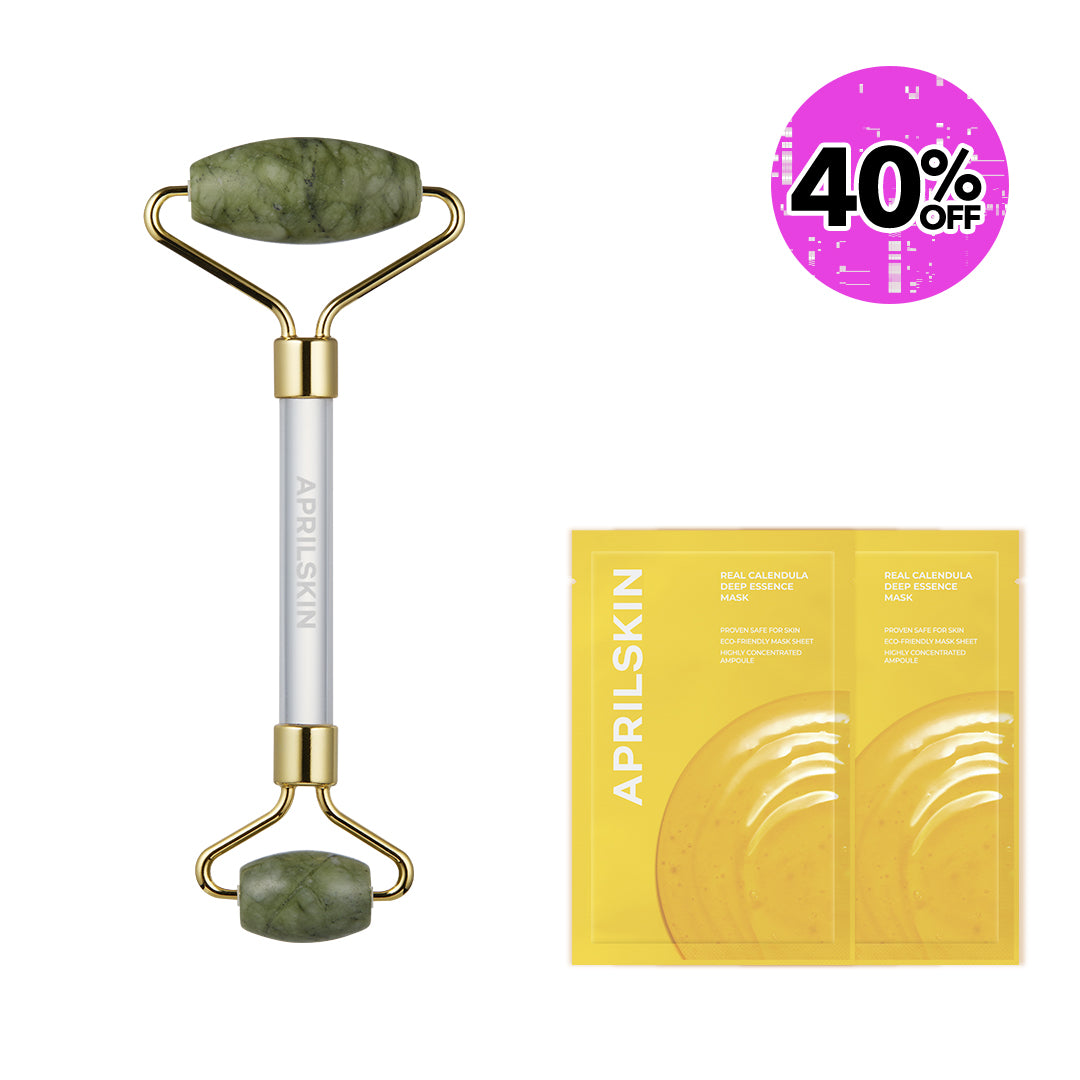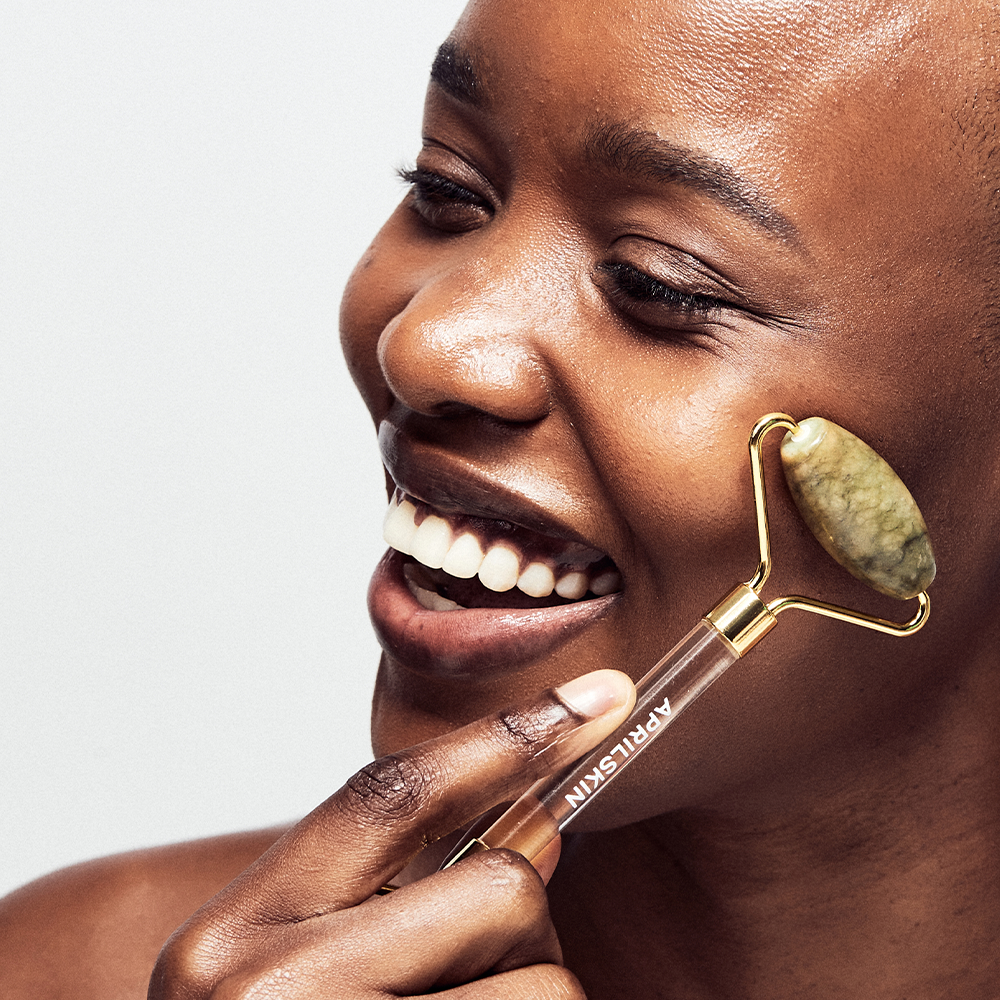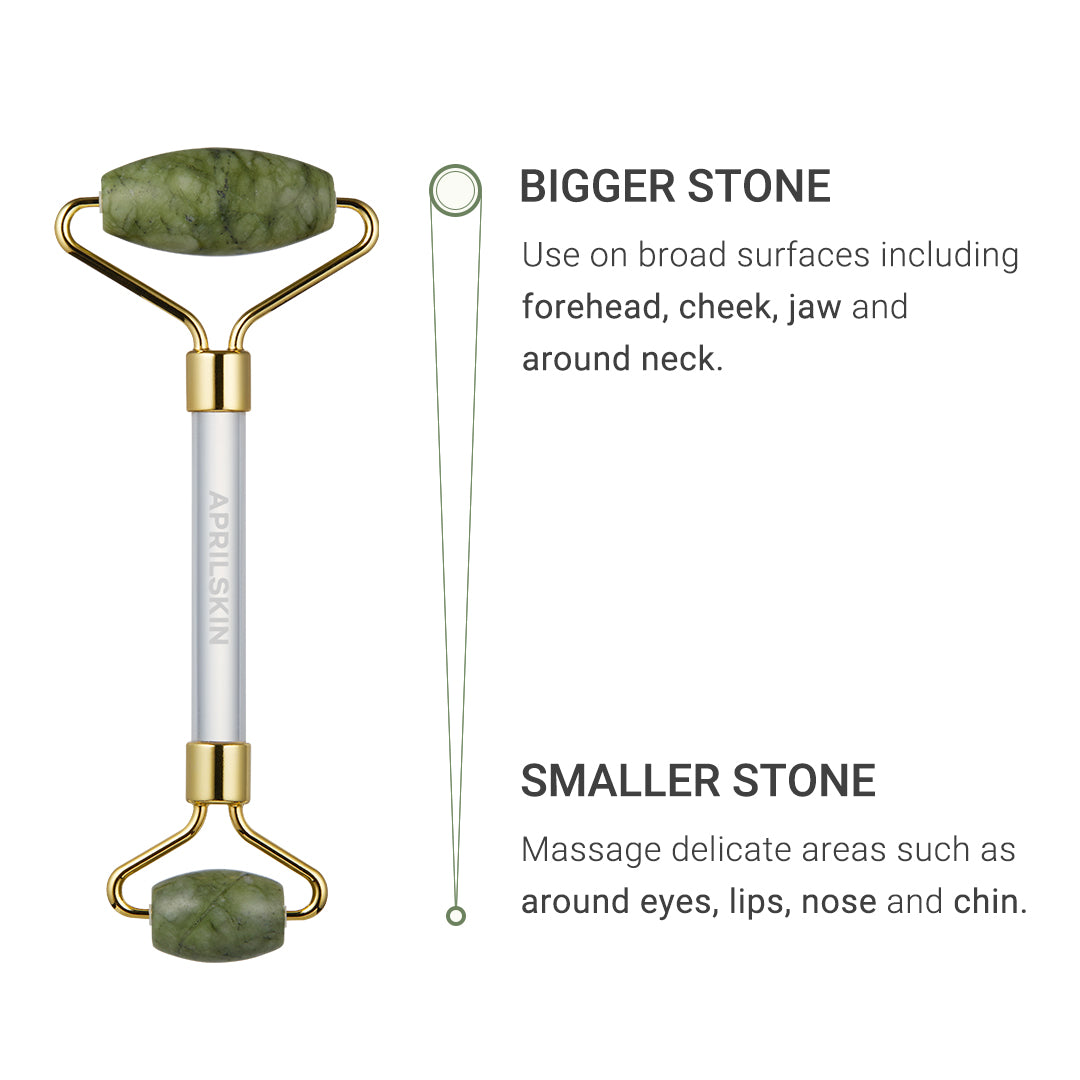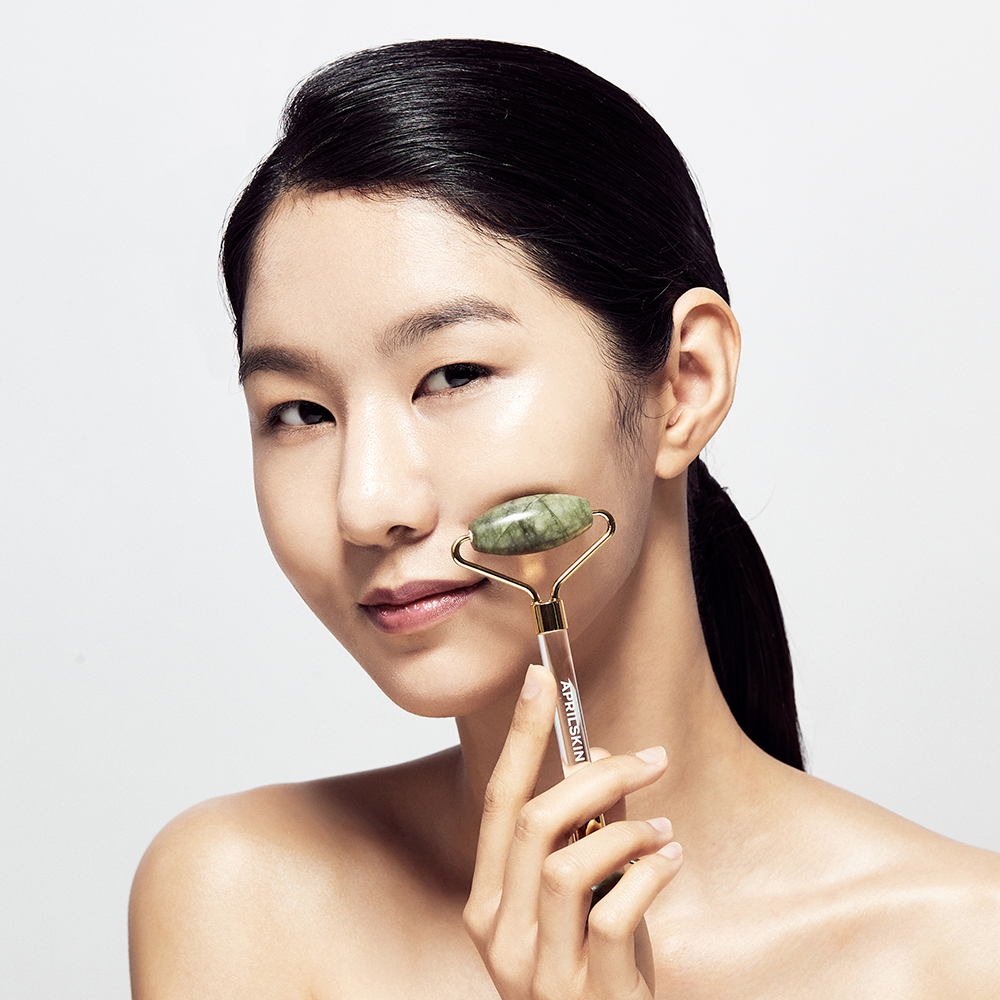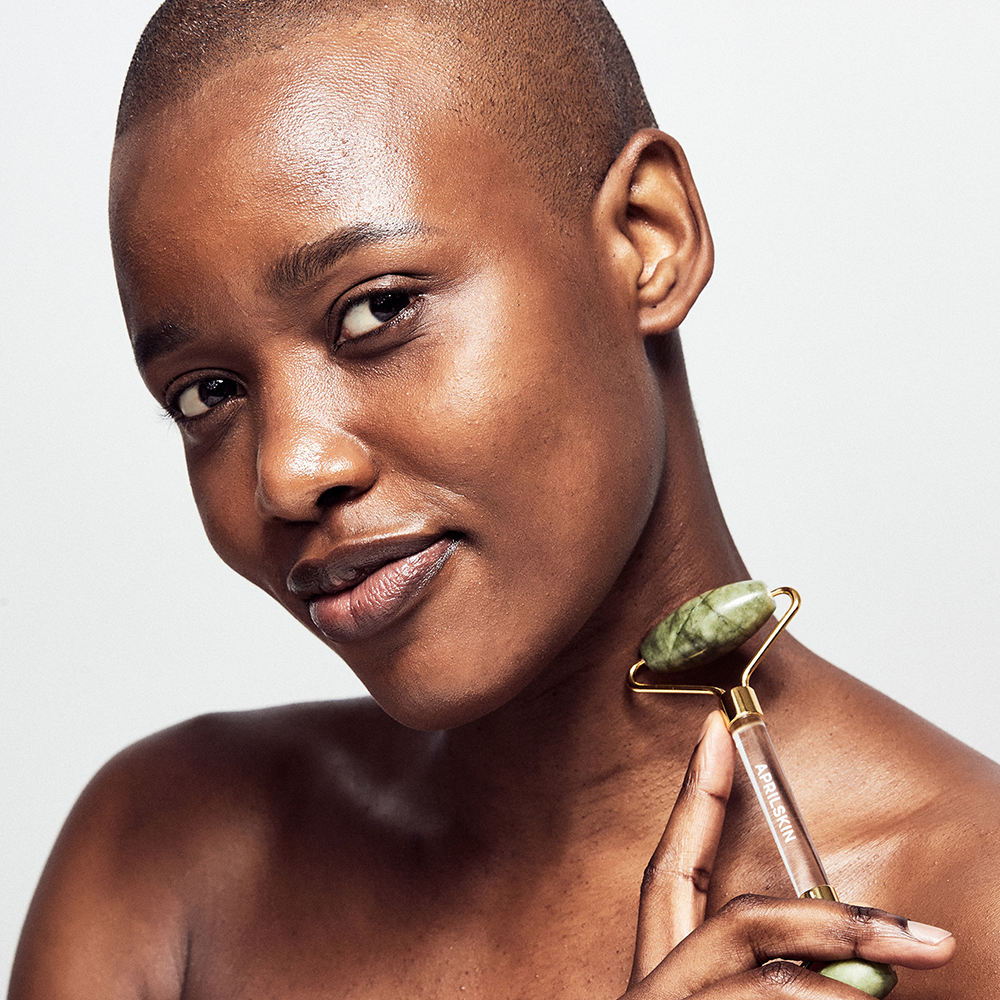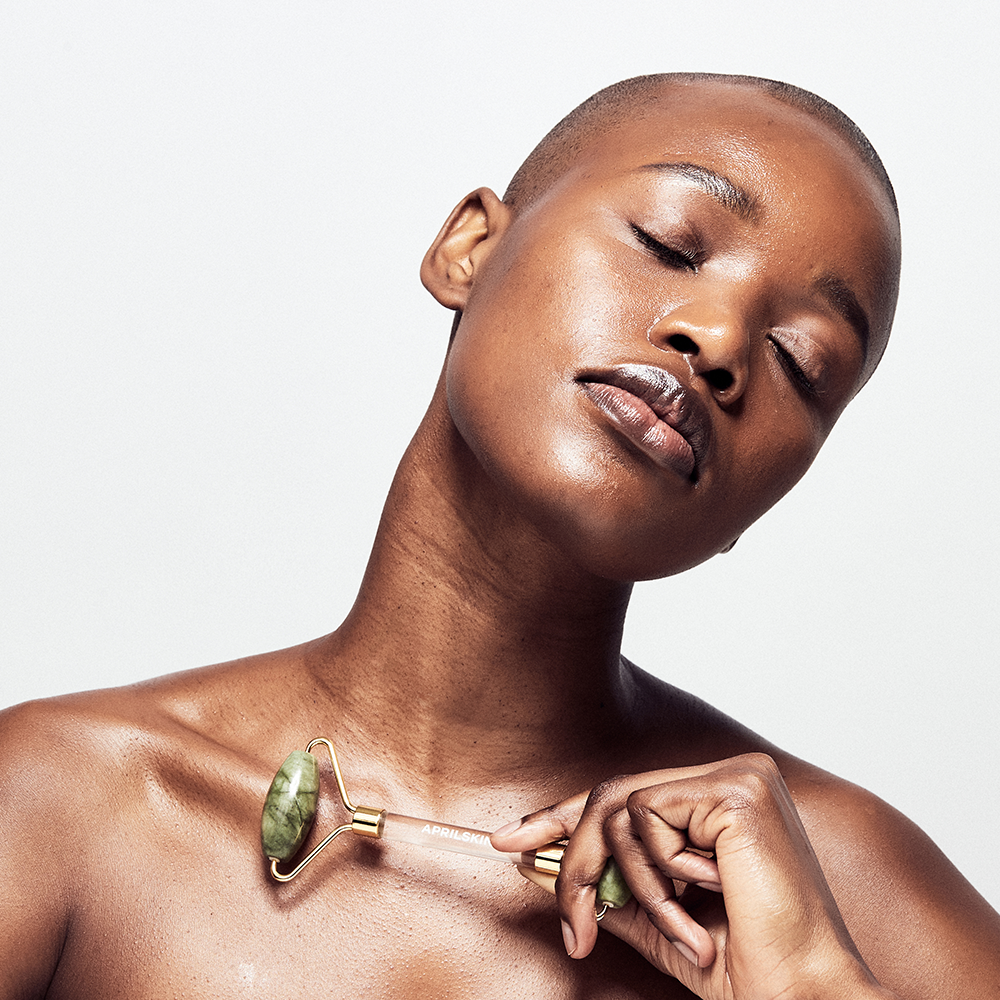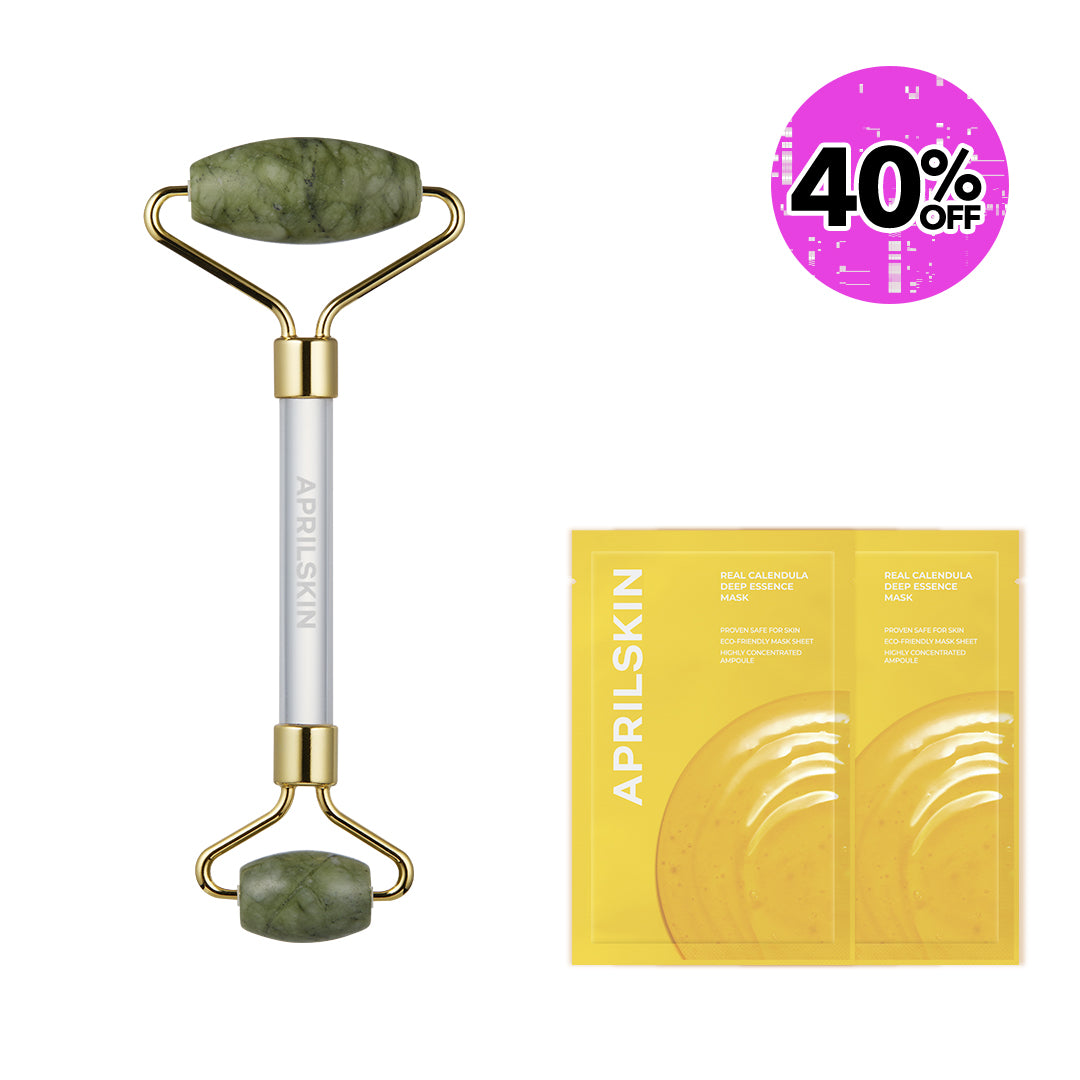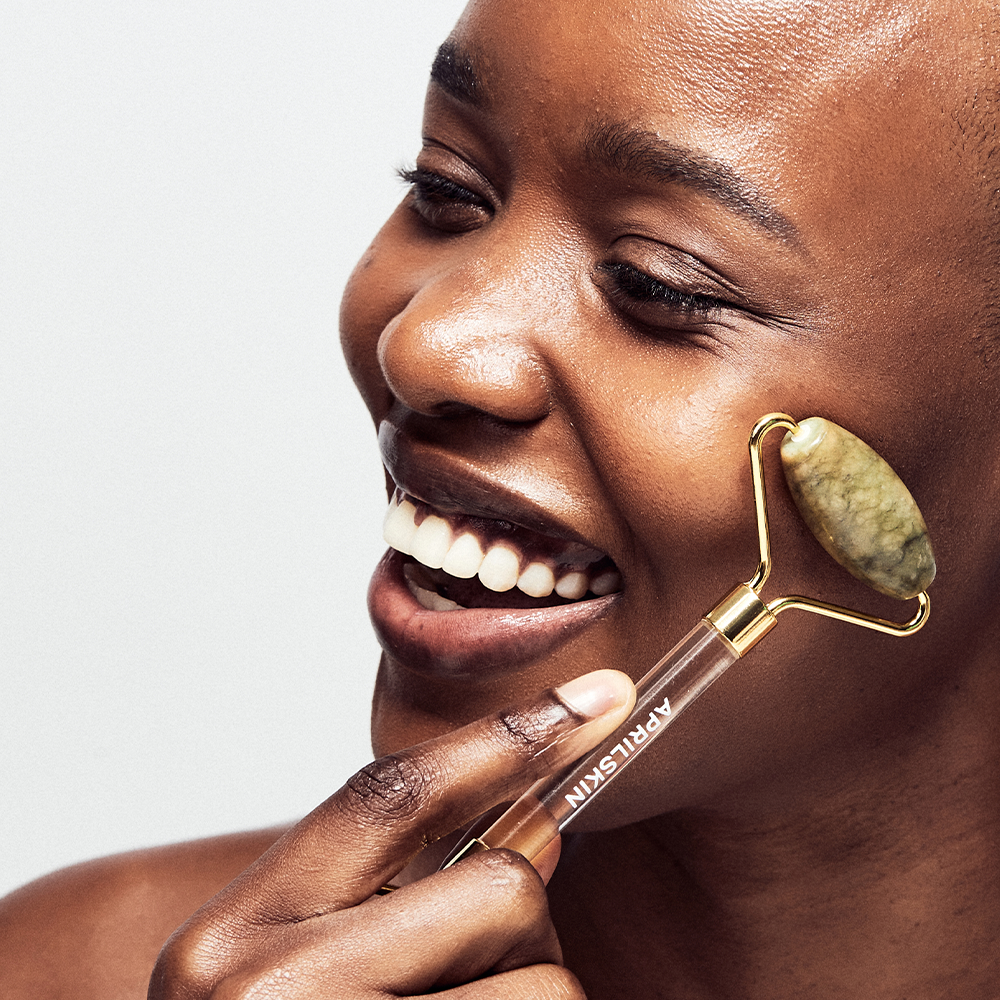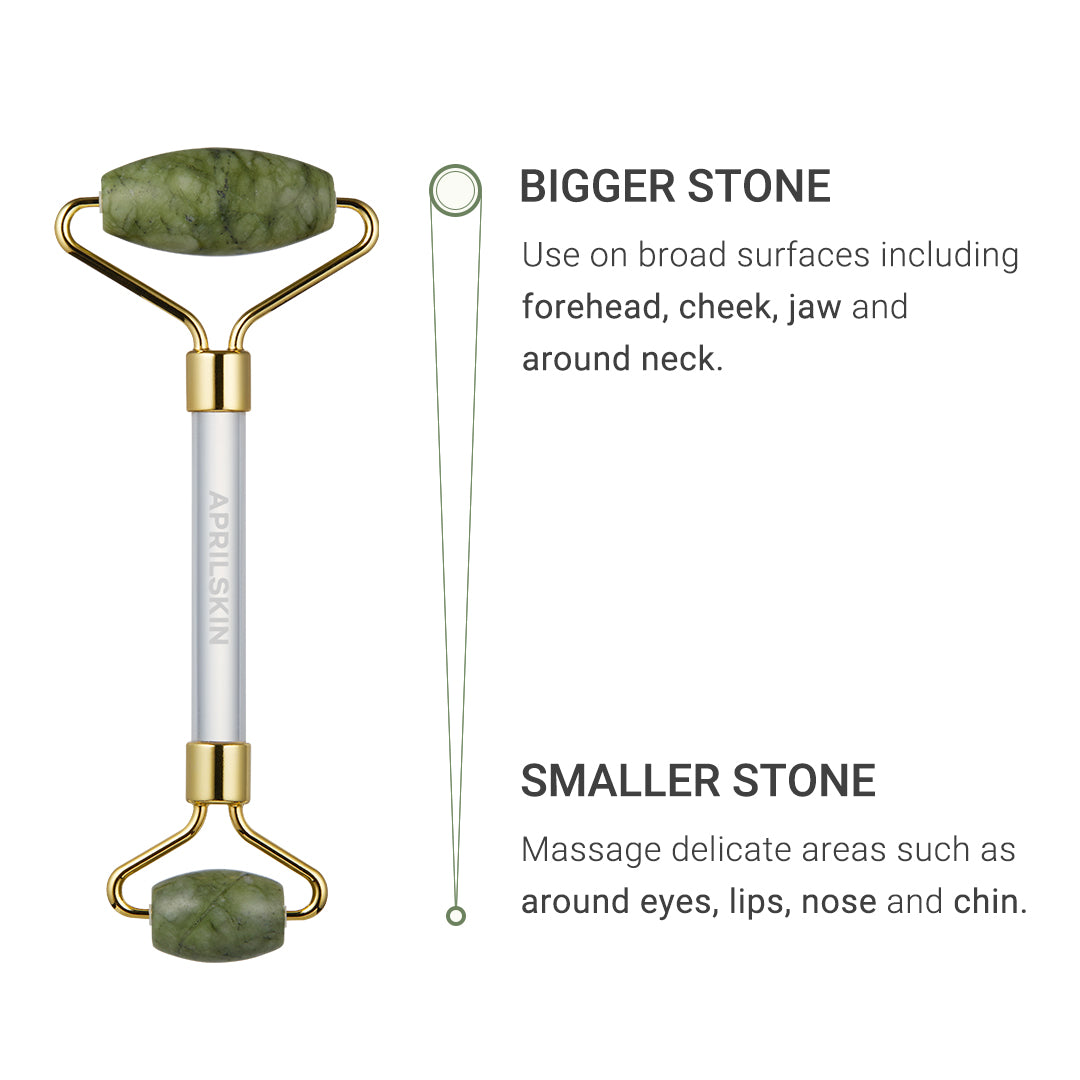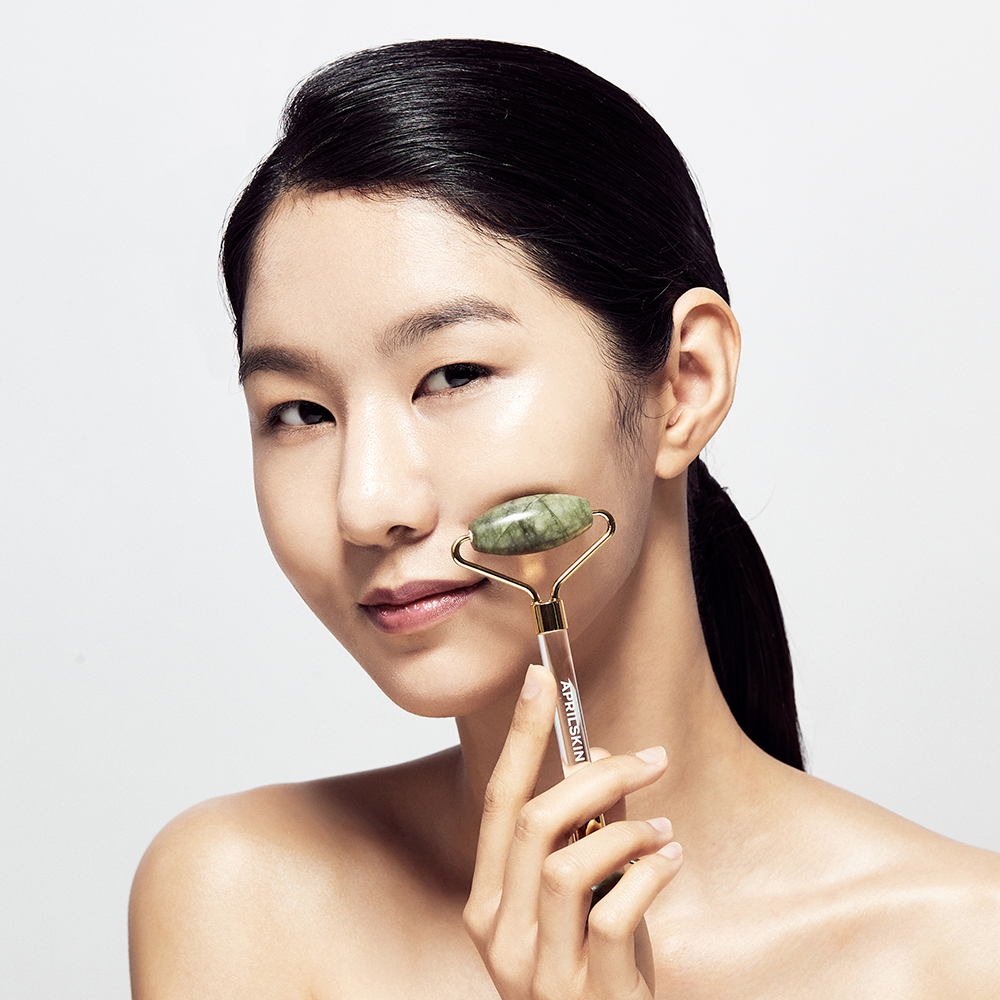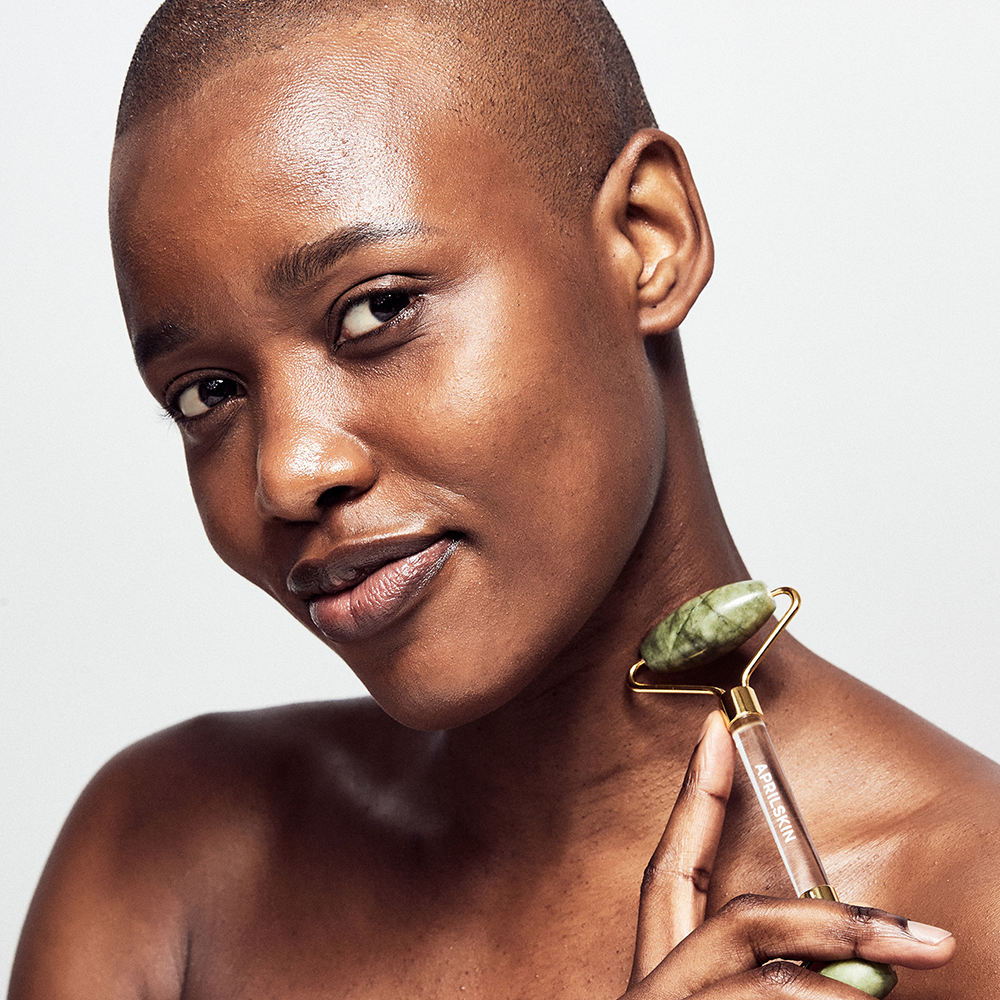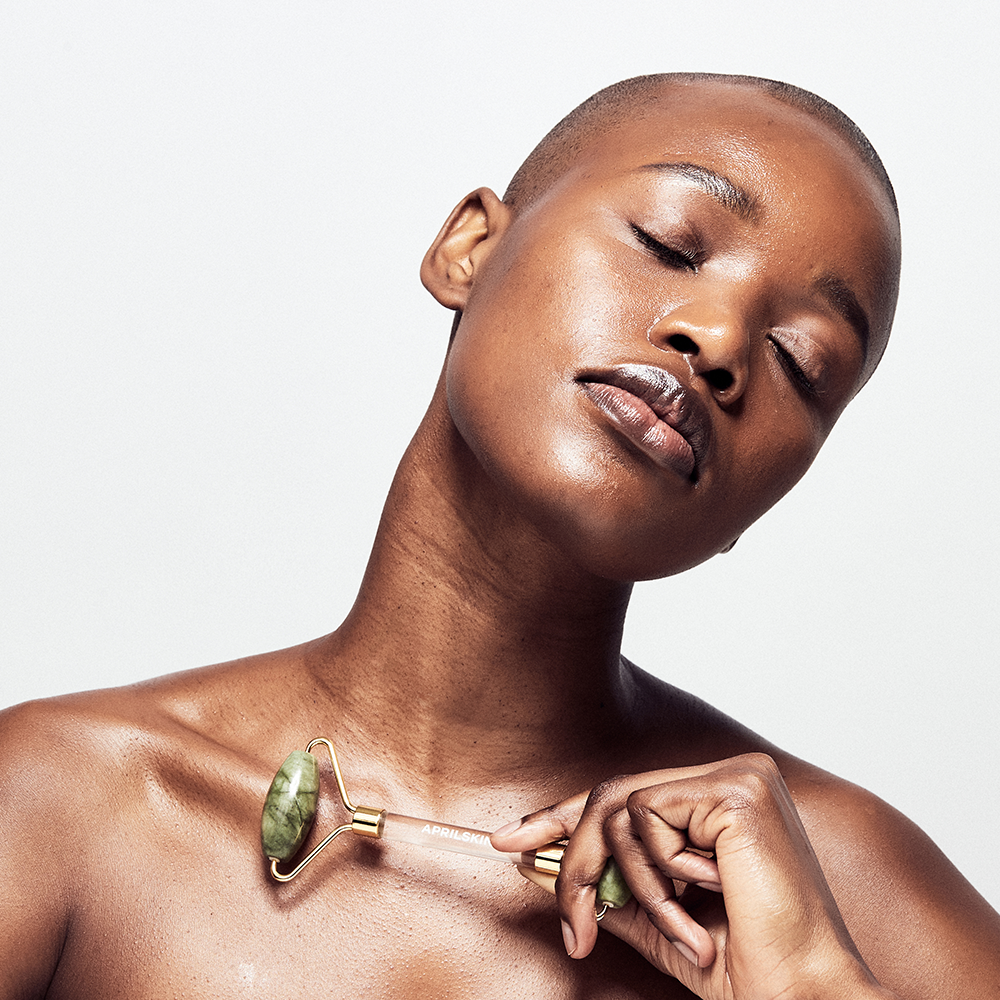 Time Lock Jade Facial Roller
WHAT IT IS:
5 benefits with just 5 minutes a day. A daily self-care ritual for your inner and outer beauty.
Jade Roller Massage is a time-tested and age-old traditional remedy originating from ancient China. It helps to relieve stress, relax the body, as well as massage the face.
APRILSKIN TIME LOCK JADE FACIAL ROLLER is designed to be simply rolled over your face in an outwards direction for an instantly glowing complexion. It also helps in detoxing by rolling over pressure points on the face and stimulating lymphatic drainage. It also provides cooling & calming effects to sensitive, inflamed skin.
Made with 2 jade stones, the stone of balance, it delivers feelings of beauty and wellness, and brings harmony through massage.

WHAT IT DOES:
• Helps product absorption without touching your skin with hands!
• Helps to ease facial muscle tension and to stimulate circulation and lymphatic drainage, helping you to look more glowing and less puffy.
• Physically massaging the face upward, helps it look contoured.
• Helps to improve the appearance of fine lines and wrinkles.
• Helps to soothe and calm sensitive skin.

WHO NEEDS IT:
Time Lock Jade Facial Roller is suitable for all skin including:
• Sensitive skin
• Tired and dull skin
• Irritated skin
• Blemish-prone skin
• Puffy skin
• skin that's losing it's elasticity

*These statements have not been evaluated by the Food and Drug Administration. This product is not intended to diagnose, treat, cure, or prevent any disease.

Weight: 1.91 OZ.
Natural Jade
Jade, this green, beautiful stone is a symbol of healing and balance. It aids in relieving your mind and body, making it especially good for addressing emotional issues such as lack of self-worth and confidence. Our Time Lock Jade Roller is simply designed for this - the balance of your inner and outer beauty. Taking a 5-minute massage as an act of self-love helps to smudge all the negativity and restore healthy radiance.

*Due to natural variations in stone, every jade roller is unique in pattern and color. We do not artificially dye or treat the stones.
How to Use
1. After cleansing, apply desired serum or moisturizer onto face and neck.
2. Start in the middle of the face and gently glide the Time Lock Jade Facial Roller outwards across the cheeks.
3. Move to the jaw, sculpt the jawline area with upward rolling motions.
4. Move to the eyebrows and massage upwards across the forehead.
5. Use the smaller end for more delicate areas and harder to reach places such as undereye, eyelid and chin.
6. Bring the Time Lock Jade Facial Roller to the top of the neck, and start moving downward to massage the neck, shoulders, and collarbones.
7. After use, wipe the roller with a damp cloth, pat dry and store in a dry place.

Tips:

For better results or if you want a more invigorating feeling, pop the Time Lock Jade Facial Roller in the refrigerator for 10-15 minutes before using it!
Short increments in the refrigerator will not damage the APRILSKIN's Jade Facial Roller, however please refrain from storing it in extreme temperatures for extended periods of time.
Stone: 100% Jade Handle: Acryl
About Jade

Metaphysically, Jade is referred to as the stone of luck, happiness and balance. In ancient Asian Culture, rubbing jade stones was believed to bring good fortune and longevity.
Jade is known for its healing properties such as helping to discharge waste from the body, increase blood circulation, activate metabolism, clear our complexion, and bring balance and harmony to our bodies.
The Time Lock Jade Facial Roller includes 2 pure jade stones to bring your skin a healthy glow, radiating with positive energy.
Cleaning and Care

*Please practice proper cleaning and storage methods in order to enjoy the roller for a long time.
• After using the APRILSKIN Time Lock Jade Facial Roller, it is recommended to gently wipe it down with a damp towel or wet wipe, then dry and store.
• It's best to remove any residual oil or skincare products from your jade roller.
• When storing, put it in a box and store it in a well-ventilated place to avoid heat or direct sunlight. It is recommended to store it on a vanity shelf rather than a humid bathroom cabinet.

Caution:
• The white and brown spots on the product are unique to natural stone, and are perfectly normal.
• Do not use for unintended purpose.
• Due to the nature of the product, excessive force may damage it.
• Keep out of reach of children.

Better with

Artemisia Hydrating Duo



A must-have duo for this summer to soothe and moisturize inflamed skin, and to lower down the skin temperature due to the rising heat. Get intensely hydrated for a healthy and plump look on your skin!

Calendula 10% PHA+AHA Resurfacing Serum

Boost the effect of this skin-perfecting, pore-minimizing serum with the natural, cooling properties of jade! As the jade roller helps with absorption of the serum, it also helps the serum reach the nooks and crooks of your skin to dissolve every last bit of crystallized sebum in your pores. In turn, this helps to ease pore congestions more effectively. The low temperature of the jade stone also helps to cool the skin and gives the pore a tighter feeling!

Calendula Deep Essence Sheet Mask

A simple and sweet home-spa session! Place the sheet mask on the face and gently glide the Time Lock Jade Facial Roller so that all the golden goodness of Calendula flower essence are absorbed into your skin! Massage and mask for 15 min, and feel your skin getting nourished, plumped and illuminated!
FAQ

How often should I use the APRILSKIN Time Lock Jade Facial Roller?

It is recommended to massage the face for 5~15 minutes while doing your skincare steps, But we know you're busy 😉 5 minutes of rolling massage a day is enough to enjoy 5 benefits! Refer to our instructions at the top of the page to see how to start radiating your inner glow with just 5 minutes per day!



Is it better to use the APRILSKIN Time Lock Jade Facial Roller in my morning or night routine?

The answer is both! If your face feels bloated in the morning, massage it with the jade facial roller to get instant cooling and relief from swelling! It also helps your skincare absorb better, and therefore contributes towards a smoother makeup application.

Or you can use the jade facial roller in the evenings to relax and wind down after a long day. Massage your facial muscles to help them relax and massage the pressure points to help stimulate lymphatic drainage, focusing on pushing all the stress, toxins, and negativity out of your body.



Is the jade stone on the APRILSKIN Time Lock Jade Roller natural?

Yes! That's right! APRILSKIN's Jade Facial Roller is made from 2 pieces of 100% natural Jade. Feel the negativity-smudging energy radiating from the pure gemstones, free of any artificial coloring or coating.



What product should I use with the APRILSKIN Time Lock Jade Roller?

Using the Time Lock Jade Facial Roller with skincare not only helps skincare absorb into your skin more quickly and deeply, it also keeps your hands off your face! No more worrying about not getting 100% of your skincare products, or getting skincare products stuck under your fingernails! As we all know, touching our face with our hands often is unhygienic and could spread germs! ;)

• With serums:
The jade facial roller helps the serum to absorb deeply, therefore maximizing the benefits you'll get from the serum.
• With moisturizers:
Use this jade facial roller with lightweight, spreadable moisturizers for better, more comfortable massaging effects! Moisturizers help the jade to glide smoothly and gently on your skin, as it reduces friction on the skin. Experience the hydrated, plumped feeling after massaging with your moisturizer!
• With sheet masks:
Have you ever felt that you're not getting the most out of your sheet masks? With the sheet mask on your face, use the Time Lock Jade Roller to gently massage your face so that the sheet mask adheres completely all parts of your face. Gently massage for 5 minutes so that your skin could drink up all the goodness of the sheet mask. It's a great, affordable home-spa session with the satisfaction you get from a facial!