Rose Water Modeling Mask 1 BOX (3EA)

Ingredients
Rose Water Modeling Mask
Glucose, Calcium Sulfate, Tapioca Starch, Dextrin, Potassium Alginate, Niacinamide, Trehalose, Hydrolyzed Collagen, Rosa Damascena Flower, Punica Granatum Fruit Extract, Portulaca Oleracea Extract, Centella Asiatica Extract, Adenosine, Sodium Hyaluronate, Sodium Benzoate, Potassium Sorbate, Geranium Maculatum Oil
Rose Water Modeling Mask Glucose, Calcium Sulfate, Tapioca Starch, Dextrin, Potassium Alginate, Niacinamide, Trehalose, Hydrolyzed Collagen, Rosa Damascena Flower, Punica Granatum Fruit Extract, Portulaca Oleracea Extract, Centella Asiatica Extract, Adenosine, Sodium Hyaluronate, Sodium Benzoate, Potassium Sorbate, Geranium Maculatum Oil
Rose Water Modeling Mask Glucose, Calcium Sulfate, Tapioca Starch, Dextrin, Potassium Alginate, Niacinamide, Trehalose, Hydrolyzed Collagen, Rosa Damascena Flower, Punica Granatum Fruit Extract, Portulaca Oleracea Extract, Centella Asiatica Extract, Adenosine, Sodium Hyaluronate, Sodium Benzoate, Potassium Sorbate, Geranium Maculatum Oil
Customer Reviews
Write a Review
Ask a Question
02/03/2020
Vivian H.
United States
11/27/2019
Raisa
United States
I recommend this product
fun surprise
So I wasn't actually sure of what to expect, but when I realized it was one of those rubber solidifying masks, I was super excited. There was more than enough product so I was able to put it on my neck and chest. The application is a little messy, as the bag doesn't really open up easily. So, I'd give that part 4 stars. But, as for the mask itself, it smells really nice, feels really good on the skin, and my skin was very soft, glowing and clear/not irritated afterwards. However, I do suggest laying down completely vertical– I was laying down with my head elevated about 45 degrees, and the mask started to droop... because gravity is a thing. So I deff recommend laying down flat to avoid that. I also like how it comes with a little spoon/applicator thing, however I could do without it (because plastic waste and the environment... so I've just been re-using the applicator/mixer for other masks too). I was gifted these masks for being one of the first 100 people to buy the carrot serum– not sure if I would buy regularly, because it takes time (a few mins for prep time and then 25-30 mins for the mask to be on) and the price is a little high, but I recommend if you're looking to treat yourself.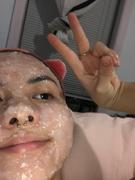 Amazing masks! It really does what it says! Used them at night before event and saw the difference in the morning . Even after first use my face looked healthier , younger and smoother. My fine lines almost disappear. My face was like after a getting a spa facial , feels clean and glowing ! Make up lays much better ,I always get a lot of compliments . Highly recommended ! Also the bowl and the brush really useful in my skin care routine so it's another bonus!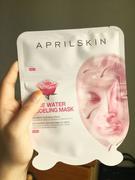 06/02/2020
Karen O.
United States
Fantastic product. Repeat purchaser here and satisfied customer.
Absolutely in LOVE with everything about this mask....soothing hydrating and leaves my skin feeling like silk.
05/10/2020
Irma R.
United States
An amazing mask
I really love rose water and I buy everything that has rose smell. This mask didn't disappoint. It's such an interesting concepts and left my face super soft. Will purchase again!
04/25/2020
Huy T.
United States
Best hydrating mask I have ever used
Just a few more steps than normal paper mask. But it the result much better than anything else.
04/25/2020
Huy T.
United States
This product is really works.
I only used it once but my skin get so much better. This product reduces my redness and also makes poes get smaller.
04/23/2020
Annie
United States
Pretty good
LOVE IT! It makes my skin feels smoother and brighter. It's also fun to mix.
02/06/2020
Eva R.
United States
Nice
They gave me these as a free gift and I ended up loving them A little hard to mix but that's okay
If you want to make your skin glowwww, then just use it!!! It calmed the blemishes on my face as well. And I like the lovely color of it!
I'm a big fan of these masks! They're so convenient and easy to use! I always use one before leaving house for a party!