Transform dry, flakey skin to plumpy, radiant skin in 2 steps!

1. Peel off dry patches, dullness, and dead skin with our Calendula Peel Off Mask so the rest of your skincare can absorb better.
2. Hydrate, calm, and firm up skin with our Artemisia Rice Toner. Plus, get all the skin tools you need for the best results - that's right- for free.

Weight: Calendula Peel Off Mask - 100g, Artemisia Rice Essence Toner - 200ml, 3 Layer cotton pads - 80 pads, Jelly Brush



Hero Ingredients
Calendula
Soothes and protects your skin, with healing properties so good, it's basically a whole bouquet of flowers -- but for your skin, not your bae.
Artemisia & Rice
Artemisia and rice is a time-tested, traditional staple in Asian beauty skincare that is passed down through long generations. Artemisia soothes the irritated, inflamed skin and pumps up the moisture while rice bran water brightens and energizes your complexion.
Skincare Step
1. Calendula Peel Off Mask - Lift dead skin and excess oil so the rest of your skincare absorbs better
2. Artemisia Rice Toner - Hydrate, calm, and firm up skin.

"No Filter Skin!"
A great set item for dry, flaky skin! The peel off mask smoothes out my skin baby soft, and the toner fill in it with intensive hydration and moisture! I love it.
Caitlin S.
Calendula Peel Off Mask

The best ever peel feel




How to use:

1. After cleansing, apply an even layer to dry skin, avoiding eyes, lips, and hairline
2. Leave on for 30 mins or until completely dry
3. Gently peel off mask from outer edges and wipe away any excess with a fresh clean towel. No need to wash your face after peeling.





Tips:

Apply using the Jelly Brush for even application





Weight: 100g

Key Ingredients

Calendula Flower
Soothes and protects your skin, with time-tested healing properties.
Flower Complex
Anti-inflammatory Starflower (Borage), Cornflower, and Chamomile Flower extracts soothe dry, itchy, scaly skin
Tree & Fruit Oils
Helps clear acne, reduces puffiness, redness, and evens out skin tone.
Artemisia Rice Toner

Hydrating vegan toner for "mochi-bounce"skin.




How to use:

1. Wet a cotton pad with the toner and gently swipe across your face.
2. To apply an extra layer for longer lasting hydration, put a few drops of toner into the palms and press them gently into your face.


Tips:

1. Use with 3-layer Cotton Pads. Soak the cotton pads generously with toner.
2. Separate the cotton pads into 3 layers. Place two sheets on each side of the cheeks and one on the forehead. Relax for 3 minutes, then remove.
3. Use a spray bottle and mist your face whenever you need a hydration boost.


Weight: 200ml

Key Ingredients

Artemisia
Time-tested skin soothing remedy that is passed down through long generations.
Rice
Made with 10,000ppm rice bran water to brighten and firm up skin.
FAQ

How often should I use the Peel Off Mask? What about the rest?

Use Peel Off Mask twice a week to get a glow that won't fade! For the rest, use it anytime you want when your skin needs some tender loving care. For normal days, we'd suggest using it twice a day in the AM and PM for smooth and soft skin!

Does the peel off mask hurt?

Nope! Our Calendula Peel Off mask is no OWs! Just ahhhs~. Our Peel Off Mask is gentle but it effectively peels away dead skin, surface debris, impurities in the gentlest way possible while leaving skin smooth and soft.

I have a certain skin type. Can I still use the Peel Off Mask?

Our Peel Off Mask is a gentle peel off mask that is suitable for ALL skin types, regardless of gender and age. So, peel away with no worries!

Will Artemisia work for my skin type?

Artemisia is an amazingly versatile ingredient for different skin types.
1. For oily and combination skin types: This toner will balance oil production, moisturize the skin without feeling heavy, and help heal acne.
2. Dry skin types: it has calming and soothing properties that can help with redness or itchiness caused by dry patches on the skin. Dry skin types also tend to have compromised skin barriers and Artemisia contains Vitamin A to help skin cell turnover, providing a collagen boost and providing anti-aging properties to help the skin recover.
3. Sensitive skin: Artemisia helps calm and soothe redness on the skin while also healing acne/breakouts.
4. Mature skin types: It's also packed with Vitamin A (great for skin renewal and regeneration) and Vitamin C (a skin brightening and protecting ingredient)! Skin-saving components infused in Artemisia, this ingredient is perfect for preventing fine lines and wrinkles.

What's the Depuffing Cooling Stick for?

Filled with a special refrigerant for prolonged cooling, this cute lil' guy reduces puffiness and redness, lowering skin temperature by as much as 15 degrees. By promoting blood circulation, skin elasticity is improved, pores appear smaller, and sebum production decreases. Makeup also applies like a dream afterwards!
Customer Reviews
Write a Review
Ask a Question
09/17/2020
Ingrid N.
United States
09/10/2020
Anita M.
United States
08/29/2020
Cecilia V.
United States
08/28/2020
Saria A.
United States
08/25/2020
Quyen A.
United States
08/20/2020
Furong
United States
I recommend this product
Really recommend
I've been seeing ads about this brand for as long as I can remember and I figured I'd finally give it a try. It took a bit long to arrive but it was worth the wait. The size really shocked me at first because it was quite small. I decided to try it out on the face and I was even more shocked. I have combination and very sensitive skin and none of these products did anything rather than making it better. I use the the toner everyday after washing my face and it worked really well. After that I applied the carrot serum; I also really recommend this product. The first time I used the peel off mask, it was easy and a time saver. It leaves your skin with a smooth texture and maybe brightening. Although the cute little depuffing cooking stick doesn't have much effect on my skin- it's really cute. My skin condition is definitely better after using these products and I'm going to try out other products as well!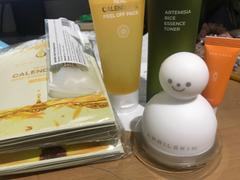 09/23/2020
Katherine M.
United States
I recommend this product
Instant Results!
Loved this set. The fface mask left my skin soft and smooth after the first use!
09/22/2020
Mery A.
United States
I recommend this product
Amazing
make my skin more soft and looks more healthy
09/21/2020
Natalie S.
United States
I recommend this product
Love it so much
I love using this mask. So gentle and makes my skin so soft
09/19/2020
Toryscheva L.
United States
I recommend this product
Love it
Both the toner and mask are great, very calming. I have perioral dermatitis and really feel like these help.
09/18/2020
Austin T.
United States
I recommend this product
Decent
It is very easy to use this item! I have noticed by pores shrinking more, and the product is super light and gentle to use.
09/17/2020
STEVEN L.
United States
Results!
I love these products! I am very particular with my skin and the products I use. I am blown away with the quality and results of these products!
09/17/2020
Christina W.
United States
Love!
I absolutely love the two products I got and plan on buying more!
09/17/2020
Marygrace M.
United States
Chill feel set
I love it because it work for me
09/16/2020
Kyleigh C.
United States
Magic.
I will never stop using these two. Combined with the calendula peel pads and carrot blemish serum, my skin has never looked so good. Everything from AprilSkin is pure magic.
Language
English
English