Everglow Skin SET - All/Normal Skin
Get everglowing skin in 3 easy steps.

A triple threat set made with the fav-fave items from each of our skin collections exfoliate, hydrate, and calm skin for that flawless texture and glow that won't ever fade!
Plus, get all the skin tools you need for the best results - that's right- for free.




Hero Ingredient
Calendula
Soothes and protects your skin, with healing properties so good, it's basically a whole bouquet of flowers -- but for your skin, not your bae.
Artemisia & Rice
Artemisia and rice is a time-tested, traditional staple in Asian beauty skincare that is passed down through long generations. Artemisia calms the skin while rice bran water brightens and energizes your complexion.
Organic Carrots
10,000ppm of premium grade extra virgin oil rich in Beta-Carotene and Vitamin A that smashes out irritations, and pumps up moisture.
Skincare Step
1. Calendula Peel Off Mask
Lift dead skin and excess oil so the rest of your skincare absorbs better
2. Artemisia Rice Toner
Hydrate, calm, and firm up skin
3. Carrot blemish serum
Mositurize and refine texture
"Skeptic turned believer."
I have literally only used this for three days and I have already seen an unbelievable improvement in my skin.
Kendra
Calendula Peel Off Mask

The best ever peel feel.





How to use?

1. After cleansing, apply an even layer to dry skin, avoiding eyes, lips, and hairline
2. Leave on for 30 mins or until completely dry
3. Gently peel off mask from outer edges and wipe away any excess with a fresh clean towel. No need to wash your face after peeling.


Tips!

Apply using the Jelly Brush for even application.

Key Ingredients

Calendula Flower : Soothes and protects your skin, with time-tested healing properties.
Flower Complex : Anti-inflammatory Starflower (Borage), Cornflower, and Chamomile Flower extracts soothe dry, itchy, scaly skin
Tree & Fruit Oils : Helps clear acne, reduces puffiness, redness, and evens out skin tone.

Artemisia Rice Toner

Hydrating vegan toner for "mochi-bounce" skin.





How to use?

1. Wet a cotton pad with the toner and gently swipe across your face
2. To apply an extra layer for longer lasting hydration, put a few drops of toner into the palms and press them gently into your face.





Tips!

1. Use with 3-layer Cotton Pads. Soak the cotton pads generously with toner.
2. Separate the cotton pads into 3 layers. Place two sheets on each side of the cheeks and one on the forehead. Relax for 3 minutes, then remove.
2. Use a spray bottle and mist your face whenever you need a hydration boost.


Key Ingredients

Artemisia : Time-tested skin soothing remedy that is passed down through long generations.
Rice : Made with 10,000ppm rice bran water to brighten and firm up skin.

Carrot Blemish Serum

Zap away blemishes and milia.





How to use?

1. Use AM and PM, after toner and cleansing
2. Pump 1- 2 times and gently spread across the face from the center outwards
3. Apply 2-3 more layers on especially tired and sensitive areas


Tips!

Layer on the serum on target areas

Key Ingredients

Organic Carrots : Contains 10,000ppm of premium grade extra virgin oil rich in Beta-Carotene and Vitamin A, that wrestles free radicals and pumps up the moisture
Niacinamide : Fights free radicals and strengthens the skin barrier to keep it firm and healthy
Hyaluronic Acid & Plant Oils : Known for their hydrating and soothing properties to calm inflammation and irritation

FAQ

How often should I use the Peel Off Mask? What about the rest?

Use Peel Off Mask twice a week to get a glow that won't fade! For the rest, use it anytime you want when your skin needs some tender loving care. For normal days, we'd suggest using it twice a day in the AM and PM for smooth and soft skin!

Does the peel off mask hurt?

Nope! Our Calendula Peel Off mask is no OWs! Just ahhhs~. Our Peel Off Mask is gentle but it effectively peels away dead skin, surface debris, impurities in the gentlest way possible while leaving skin smooth and soft.

I have a certain skin type. Can I still use the Peel Off Mask?

Our Peel Off Mask is a gentle peel off mask that is suitable for ALL skin types, regardless of gender and age. So, peel away with no worries!

I have a certain skin type. Can I still use this set?

Our Everglow set is the missing puzzle piece for people with dull skin! For other skin types, hop over to our other sets that are best for your skin needs.
Sensitive skin/troubled skin - Skin soother duo set
Oily/combination skin - 3 Step WONDER-oily/combo skin
Dry skin - 3 Step WONDER-dry skin set

Customer Reviews
Write a Review
Ask a Question
06/25/2020
Georgia D.
United States
I recommend this product
Amazing!
Hands down the BEST product. My skin feels amazing and is clearing up my cystic acne You won't be disappointed.
07/08/2020
Jessica C.
United States
I recommend this product
Great price for amazing combo pack!!!
I've already reviewed the carrot serum and peel off mask. I lovvvve both so much!! They have helped my skin clear up and brighten up tremendously. I've bought about 3 or 4 of each of those haha now for the carrot acne foam cleanser. It is amazing! It's nice and thick so it spreads evenly and has a nice light sent. It leaves my face looking and feeling so clean and bright! I will be purchasing it again! As for the artemisia rice toner, omg I love this toner!! So gentle on the skin, I can smell no scent. It brightens and makes my skin look younger and smoother I love it! Will definitely be buying another bottle! I'm going to keep trying more of Aprilskin's products. They are truly amazing!
07/07/2020
Richel M.
United States
07/07/2020
Clara V.
United States
07/01/2020
Janine V.
United States
06/26/2020
Destiny B.
United States
I recommend this product
Love this set so much!
I'm so happy that I can get these 3 on discount price! I'll reorder it cuz it's almost running out haha These 3 products truly changed my skin! My skin is so flawless and soft now! No more flaky makeup! Finally I can wear even makeup!! Literally super excited that I found this brand. Thank you Aprilskin!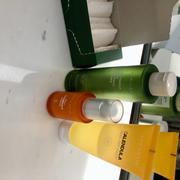 07/12/2020
Maria M.
United States
I recommend this product
I really liked most of the items
I liked most of the items on this bundle. The toner was really nice and refreshing on my skin. The Calendula sheet masks were also hydrating and soothing. The carrot blemish serum is the star of the whole bundle. I definitely notice my acne clearing up pretty quickly since I started using it. The Calendula peel-off mask was really awesome...at first. I used it and my skin was glowing and it looked perfect and smooth. I used it once a week and I noticed that after the first time, I started breaking out. I had then read that peel-off masks are actually really bad for your skin because the stripping disrupts the skin barrier and most of these peel-off masks are formulated with polyvinyl alcohol (a plastic adhesive used to laminate glass). If you have pretty sensitive skin/are acne-prone/have skin issues like eczema or psoriasis, the peel off is not good for you because it can actually flare these problems up. I was most excited about the peel-off and I liked it a lot at first but after the massive breakout I had a few days later, I've since stopped using it and my skin is on the mend. When I purchased this bundle, I received a full-size anti-acne carrot face wash for free. I really wanted to like it but it stripped my skin of moisture so bad, my face felt extremely tight and dry after washing. If you have severely oily skin, this might be for you but I have combination skin and it even made my T-zone feel extremely stripped.
07/12/2020
Christine C.
United States
I recommend this product
The Best skin care
I love how my skin feels after using the mask. The toner has truly improved my overall skin texture. My husband and colleagues compliment me on how radiant the glow of my skin has become. I feel a clean tingling sensation on my skin when I use the carrot serum.
07/11/2020
Chrystal G.
United States
I recommend this product
First Kit I tried
I was skeptical ordering off of social media — you never know what you're getting. THIS SET, however, is amazing. I've been experiencing some "bad" - Bad for me - breakouts on my forehead from stress given the current world situation. I tried a few expensive brands and nothing cleared it. I'm not sure if one item in this set cleared me up or a combination of all the items, but my skin has cleared 50% in a week. I'm so happy! In fact, I came back today to order everything to share with my teenage daughters. The mask, the serum, the toner, the cleanser? All amazing and non-irritating.
07/11/2020
Sherell N.
United States
I recommend this product
Great product
This is a great product. A great combination of products for my face.
07/10/2020
Mai C.
United States
I recommend this product
Love It!
I love all of the product! I use them AM and PM. I put on the mask once a week. My skin has never been better!
07/10/2020
Catherine A.
United States
I recommend this product
Loving rice essence toner
I am falling in love with this rice essence toner.. i think i would stick to this one. It's feels nice on my face
07/10/2020
Crista L.
United States
I recommend this product
Nice & Light
I splurged on this set because I wanted to try the Candula Peel Mask and figured I should just try as many of their of Thor products as possible. And I love it so far! The quality is obviously top notch. The cleanser actually leaves my skin feeling clean. The toner (and the cotton pads) is really hydrating. The serum is nice & light. Plus a little goes a long way. Only tried the Peel Mask once so far but it was pretty fun and easy to use. Definitely try Aprilskin if you haven't already.
Language
English
English