Calendula Peel Off Mask Water, Polyvinyl Alcohol, Alcohol, Dipropylene Glycol, 1,2-Hexanediol, Polysorbate 80, Calendula Officinalis Flower, Xanthan Gum, Citrus Aurantium Dulcis (Orange) Peel Oil, Lavandula Angustifolia (Lavender) Oil, Disodium EDTA, Juniperus Mexicana Oil, Amyris Balsamifera Bark Oil, Salvia Sclarea (Clary) Oil, Calendula Officinalis Flower Extract, Butylene Glycol, Caprylic/Capric Triglyceride, Calendula Officinalis Flower Oil, Lavandula Angustifolia (Lavender) Extract, Borago Officinalis Extract, Centaurea Cyanus Flower Extract, Chamomilla Recutita (Matricaria) Flower/Leaf Extract Calendula Deep Moisture Essence Calendula Officinalis (Pot Marigold) Flower Water (80%), Glycerin, Water, 1,2-Hexanediol, Methylpropanediol, Butylene Glycol, Pentylene Glycol, Betaine, Xylitol, Sodium Hyaluronate, Sodium Hyaluronate Crosspolymer, Sodium Acetylated Hyaluronate, Hydroxypropyltrimonium Hyaluronate, Hydrolyzed Hyaluronic Acid, Lavandula Angustifolia (Lavender) Flower/Leaf/Stem Extract, Pueraria Lobata (Kudzu) Root Extract, Pinus Palustris (Longleaf Pine) Leaf Extract, Ulmus Davidiana (Japanese Elm) Root Extract, Oenothera Biennis (Evening Primrose) Flower Extract, Calendula Officinalis (Pot Marigold) Flower, Citrus Sinensis (Orange) Peel Oil Expressed, Allantoin, Polyquaternium-51, Glyceryl Acrylate/Acrylic Acid Copolymer, Acrylates/C10-30 Alkyl Acrylate Crosspolymer, C12-14 Pareth-12, Xanthan Gum, Tromethamine, Citric Acid Calendula Peeling Pad  Butylene Glycol, Calendula officinalis flower water , 1,2-Hexanediol, Dipropylene Glycol, Glycerin, Pentylene Glycol, Water, Citric Acid, Calendula Officinalis Flower, C12-14 Pareth-12, Water, Portulaca Oleracea Extract, Centella Asiatica Extract, Xanthan Gum Ammonium, Acryloyldimethyltaurate/VP Copolymer, Allantoin, Dipotassium Glycyrrhizate, Tetrasodium EDTA, Lavandula Angustifolia(Lavender)Flower/Leaf/Stem, Citrus Sinensis Peel Oil Expressed, Sodium Hyaluronate, Pinus Palustris Leaf Extract, Oenothera Biennis (Evening Primrose) Flower Extract, Ulmus Davidiana Root Extract, Pueraria Lobata Root Extract, Capryloyl Salicylic Acid, Gluconolactone
Calendula Peel Off Mask Water, Polyvinyl Alcohol, Alcohol, Dipropylene Glycol, 1,2-Hexanediol, Polysorbate 80, Calendula Officinalis Flower, Xanthan Gum, Citrus Aurantium Dulcis (Orange) Peel Oil, Lavandula Angustifolia (Lavender) Oil, Disodium EDTA, Juniperus Mexicana Oil, Amyris Balsamifera Bark Oil, Salvia Sclarea (Clary) Oil, Calendula Officinalis Flower Extract, Butylene Glycol, Caprylic/Capric Triglyceride, Calendula Officinalis Flower Oil, Lavandula Angustifolia (Lavender) Extract, Borago Officinalis Extract, Centaurea Cyanus Flower Extract, Chamomilla Recutita (Matricaria) Flower/Leaf Extract Calendula Deep Moisture Essence Calendula Officinalis (Pot Marigold) Flower Water (80%), Glycerin, Water, 1,2-Hexanediol, Methylpropanediol, Butylene Glycol, Pentylene Glycol, Betaine, Xylitol, Sodium Hyaluronate, Sodium Hyaluronate Crosspolymer, Sodium Acetylated Hyaluronate, Hydroxypropyltrimonium Hyaluronate, Hydrolyzed Hyaluronic Acid, Lavandula Angustifolia (Lavender) Flower/Leaf/Stem Extract, Pueraria Lobata (Kudzu) Root Extract, Pinus Palustris (Longleaf Pine) Leaf Extract, Ulmus Davidiana (Japanese Elm) Root Extract, Oenothera Biennis (Evening Primrose) Flower Extract, Calendula Officinalis (Pot Marigold) Flower, Citrus Sinensis (Orange) Peel Oil Expressed, Allantoin, Polyquaternium-51, Glyceryl Acrylate/Acrylic Acid Copolymer, Acrylates/C10-30 Alkyl Acrylate Crosspolymer, C12-14 Pareth-12, Xanthan Gum, Tromethamine, Citric Acid Calendula Peeling Pad  Butylene Glycol, Calendula officinalis flower water , 1,2-Hexanediol, Dipropylene Glycol, Glycerin, Pentylene Glycol, Water, Citric Acid, Calendula Officinalis Flower, C12-14 Pareth-12, Water, Portulaca Oleracea Extract, Centella Asiatica Extract, Xanthan Gum Ammonium, Acryloyldimethyltaurate/VP Copolymer, Allantoin, Dipotassium Glycyrrhizate, Tetrasodium EDTA, Lavandula Angustifolia(Lavender)Flower/Leaf/Stem, Citrus Sinensis Peel Oil Expressed, Sodium Hyaluronate, Pinus Palustris Leaf Extract, Oenothera Biennis (Evening Primrose) Flower Extract, Ulmus Davidiana Root Extract, Pueraria Lobata Root Extract, Capryloyl Salicylic Acid, Gluconolactone
Customer Reviews
Write a Review
Ask a Question
07/07/2020
Caroline F.
United States
I recommend this product
Repurchased! Super great!
I bought this because I ran out of my peel off mask and toner pads. I have NEVER used all of a product before these. I love them so much. The third time I used the peel off mask SO many blackheads came out. I've never had a product do that before! I was only half done with my essence bottle so I'm saving it for when I run out of my first bottle too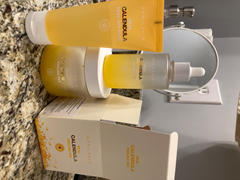 07/05/2020
Sarah
United States
05/25/2020
Sarah C.
United States
05/09/2020
Michelle E.
United States
I recommend this product
Amazing Value and Revolutionary for my Skin
I purchase the set when it didn't come with the brush, hence it was a few dollars less. But! In the case that it isn't stocked, I DO RECOMMEND having one of those for the mask. You save A LOT of product, and it is easier to spot treat. Now the Deep Moisture Essence is a steal, it is larger than it seems on the picture. Which means more product, and so good for leaving your skin feeling plump and not overhydrated (oily or heavy). The Toner Pads, OH ! I can't get enough of them! I love them, and honestly they were the main reason I wanted to try Aprilskin. And I'm so happy the set I chose has 2 packs. They are so full of product that even after going over your skin many times, you'll always have product left. Which I pat on my face and go to bed. Because my skin is oily in the Tzone I always do this before a mask, and before bed. I would say after work but during these times I don't really go out, but when I do I will certainly use it to remove the nasty stuff my face has been exposed to. The mask works well, I have tried it 3 times, and at first I accidentally removed too early. But I have gotten the hang of it, and it is super gentle and leaves your skin feeling glowy, but like you just washed it. So queeky clean glow. I cant wait to see the long term results . Perfect kit to start off with. Because 5o be honest the 1 item that could be a problem might be the mask as it takes 30mins to dry and it not a hard pull on your skin like the masks that actually take stuff out in one go. No this, I recommend opening up your pores (warm water, steam, etc) to get that effect. Otherwise it will do it gently with time. So in that case if the mask wasn't for you. You can STILL use it, for a pick me up. But the toner pads are super gentle and AMAZING on the skin. Your skin feels it, and so with the Essence. It is like eating healthy for your skin, you feel super good and ready to go out into the world (of course stay home for now)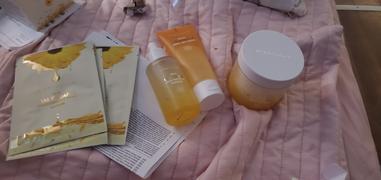 05/08/2020
So Y.
United States
05/03/2020
Leocardia S.
United States
TD
04/15/2020
Tammy D.
United States
04/14/2020
Tyesha F.
United States
04/02/2020
Tabitha T.
United States
I recommend this product
These are amazing!
Im always skeptical of skin care pack products. I was actually only into the facial peel because I have stubborn small black heads in my nose and upper cheeks that I've always had issues getting rid of with products. My only success would be to squeeze them out, leaving my poors raw, open, and capable of more dirt. I have sensitive oily skin (seriously I can't go a day without washing my hair). I've always been afraid of toners and moisturizes making my skin more oily since that's always been my problem. Its rare i come across something that won't severely make my skin oily or break out. I decided to buy the kit to get the full effect besides using the mask peel. Ive only been using it for about a week or so, and I'm pleasantly surprised and happy that this product absorbs into my skin with no sticky residue and doesn't make me feel over moisturized and oily. Typically after afew hours I feel my skin to "slime" over but with product, I feel the sebum production is coming under control each day. My skin doesn't turn red or over irritated from the products. For me it works. I can see myself buying their products to upkeep the care of my skin.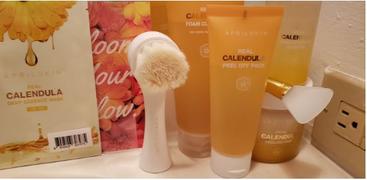 03/31/2020
Asher M.
United States
03/30/2020
Alejandro H.
United States
I recommend this product
Holy grail!
Honestly I've been trying different products for my skincare and I saw this ad on Instagram. I thought I would give it a try and it's been the best skincare for my oily skin. I'm loving how my skin feels smooth and soft. I love the smell and how it feels on my skin. I will continue to use this product and I recommend it to everyone.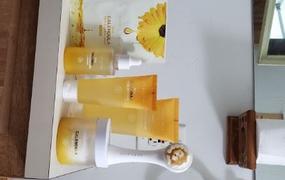 03/30/2020
Amadi O.
United States
03/30/2020
KT
United States
I recommend this product
Amazing!
I received a full set (everything seen here along with the facial cleansing brush and the jelly brush), about a week ago and have been using the cleanser with brush, peeling pads, and essence every night and I can see a HUGE difference in my skin. I used the peeling pack the first day and only intend to use it once a week but I really liked it and felt like it gave me an instant glow. I think the brush with the cleanser is making a huge difference for me so I recommend purchasing that as well. My skin is clear, even, and glowing. The couple blemishes I had when I started are completely gone, and blackheads and congestion in my T Zone are almost completely clear. I'm amazed, I have never had a skincare line work so quickly and effectively for me. I do use a cleansing oil to remove my makeup as a first step before using the April skin line as I'm not sure the cleanser would be good enough to remove makeup on its own. My skin can be very reactive so I'm used to experiencing either a bad reaction or a breakout after starting something new and I have had NO ill side effects from any of the products in this line. I waited a week to leave a review expecting to have to include a caveat about a reaction and I'm happy to report there were none! Highly recommend this entire line if you have sensitive or reactive skin like me.
07/10/2020
Mai Y.
United States
I recommend this product
Love it
Make my skin feel smooth and moistures not dry at all
07/10/2020
Lisa Y.
United States
I recommend this product
So happy I found AprilSkin
The Calendula peel has truly addd a new dimension to my skin routine. In never wear makeup and I'm almost 50 so I need to be continuously ontop of my skincare.