Carrot Acne Foam Cleanser Purified Water, Glycerin, Palmitic Acid, Stearic Acid, Lauric Acid, Myristic Acid, Potassium Hydroxide, Lauryl Hydroxysultaine, PEG-100 Stearate, Glyceryl Stearate, Carrot Water (10,000ppm), Beeswax, Sodium Methyl Cocoyl Taurate, Potassium Cocoyl Glycinate, Salicylic Acid (5,000ppm), Dipropylene Glycol, Sodium Chloride, Hydroxyacetophenone, Caprylyl Glycol, Soybean Oil, 1,3-butanediol, Bergamot Oil, Disodium EDTA, 1,2-hexanediol, Indian Mulberry Tree Flower Extract, Hydroxyethyl Cellulose, Holly Basil Leaf Extract, Indian Mulberry Tree Leaf Extract, Pine Leaf / Nuts / Stem Oil, Eucalyptus Leaf Oil, Turmeric Root Extract, Carrot Extract (100ppm), Corallina Officinalis Extract, Carrot Seed Oil (50ppm), Tea Tree Leaf Oil, Pogostemon Cablin Oil, Dipotassium Glycyrrhizate, Ethylhexylglycerin, Beta-carotene, Tocopherol, Limonene
Carrot Acne Foam Cleanser Purified Water, Glycerin, Palmitic Acid, Stearic Acid, Lauric Acid, Myristic Acid, Potassium Hydroxide, Lauryl Hydroxysultaine, PEG-100 Stearate, Glyceryl Stearate, Carrot Water (10,000ppm), Beeswax, Sodium Methyl Cocoyl Taurate, Potassium Cocoyl Glycinate, Salicylic Acid (5,000ppm), Dipropylene Glycol, Sodium Chloride, Hydroxyacetophenone, Caprylyl Glycol, Soybean Oil, 1,3-butanediol, Bergamot Oil, Disodium EDTA, 1,2-hexanediol, Indian Mulberry Tree Flower Extract, Hydroxyethyl Cellulose, Holly Basil Leaf Extract, Indian Mulberry Tree Leaf Extract, Pine Leaf / Nuts / Stem Oil, Eucalyptus Leaf Oil, Turmeric Root Extract, Carrot Extract (100ppm), Corallina Officinalis Extract, Carrot Seed Oil (50ppm), Tea Tree Leaf Oil, Pogostemon Cablin Oil, Dipotassium Glycyrrhizate, Ethylhexylglycerin, Beta-carotene, Tocopherol, Limonene
Customer Reviews
Write a Review
Ask a Question
06/30/2020
Christina
United States
I recommend this product
Amazing and Gentle Cleanser!!!
I LOVE this cleanser! It foams up so nicely and it doesn't take much. It isn't drying, it's actually very creamy and luxurious. After I use it my skin feels very clean and refreshed. I use this as my daytime cleanser with the Pore Brush, which is so soft and I love the exfoliating side too. I have extremely sensitive skin, so it took a day or two for my skin to get used to a new cleanser, but it doesn't irritate my skin at all. Highly recommend!!!!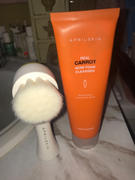 05/27/2020
Aaliyah B.
United States
I recommend this product
Not the BEST but still pretty good
I love, love, LOVE the peel off mask, and the carrot serum. So that resulted in me buying the cleanser with the dual cleansing pore brush. The brush literally feels like silk and when you put the foam cleanser on, the two feel like heaven on your skin (and there's no after cleanse tightness as advertised). Plus the silicon bristles are great for those pesky whiteheads! I used night and day and It was great at first, then my cheeks starting getting irritated and red. But I couldn't tell if it was from the brush or the cleanser. So I stopped using the brush and I only use it as an A.M cleanser now. I guess it just depends on your skin needs!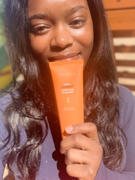 04/17/2020
Lauren C.
United States
07/03/2020
Danielle O.
United States
LOVE the Carrot Cleanser !
A little goes a LOOONNGG way ! You really only need a dime size amount on your fingers or brush. Very lathering. Nice smell. Non irritating. My face feels so clean after washing. LOVE IT !!
06/30/2020
Catherine R.
United States
Wonderfully rich
The bristles of the tool are made of clouds and with the rich lather of the cleanser, it's like whipped topping cleaning your skin!
06/29/2020
Kailee K.
United States
A New kind of Skincare routine! Love it!
Amazing! So refreshing!
06/22/2020
Eunice P.
United States
Review
Does not make your skin tight
06/19/2020
Rochelle V.
United States
Foamy
Little goes a longgggg way! It has a scent but not strong. It doesn't bother me. My face feels clean after washing.
05/27/2020
Amanda E.
United States
Grat
Seems effective and great scent, I love it. Only downside is that it makes my skin tight afterwards but nothing some moisturizer and serum can't do
05/12/2020
Lisa R.
United States
I absolutely love the products
I absolutely love the products I bought. Im having my 14 yo use it for her acne.
05/10/2020
Richelle H.
United States
Awesome Product
I really love this face wash and brush. It lathers nicely and the brush helps to make my skin feel clean and soft. I will be buying the set of the Carrot Cleanser soon!
05/09/2020
Paw M.
United States
I really love it!
I really love it!
05/05/2020
Aminata C.
United States
Amazing!!!!!!!!!
I use it for like 3 days and my skin is so smooth it takes out all the oil perfect !!! Honestly j"adore
05/04/2020
Shelby L.
United States
Ordered 2 more
My favorite face wash! My pores look much clearer and my skin is no longer oily
05/02/2020
Allison T.
United States
So far it has been
So far it has been showing some brightening and closing up some pores after a few days and I hope it will continue to show more progress over time!