Calendula Deep Essence Mask
Water, Glycerin, Niacinamide, Methylpropanediol, 1,2-Hexanediol, Pentylene Glycol, Panthenol, Trehalose, Acrylates/C10-30 Alkyl Acrylate Crosspolymer, Arginine, Butylene Glycol, Betaine, Allantoin, Xanthan Gum, Sodium Polyacrylate, Polyglyceryl-10 Laurate, Polyglyceryl-10 Myristate, Dipotassium Glycyrrhizate, Adenosine, Ethylhexylglycerin, Disodium EDTA, Limonene, Melia Azadirachta Leaf Extract, Calendula Officinalis Flower Extract, Melia Azadirachta Flower Extract, Curcuma Longa (Turmeric) Root Extract, Sodium Hyaluronate, Centella Asiatica Extract, Aloe Barbadensis Leaf Extract, Hibiscus Sabdariffa Flower Extract, cimum Sanctum Leaf Extract, Corallina Officinalis Extract, Citrus Aurantium Dulcis (Orange) Peel Oil, Tocopherol, Ulmus Davidiana Root Extract, Pueraria Lobata Root Extract, Oenothera Biennis (Evening Primrose) Flower Extract, Pinus Palustris Leaf Extract
Calendula Peel Off Mask Water, Polyvinyl Alcohol, Alcohol, Dipropylene Glycol, 1,2-Hexanediol, Polysorbate 80, Calendula Officinalis Flower, Xanthan Gum, Citrus Aurantium Dulcis (Orange) Peel Oil, Lavandula Angustifolia (Lavender) Oil, Disodium EDTA, Juniperus Mexicana Oil, Amyris Balsamifera Bark Oil, Salvia Sclarea (Clary) Oil, Calendula Officinalis Flower Extract, Butylene Glycol, Caprylic/Capric Triglyceride, Calendula Officinalis Flower Oil, Lavandula Angustifolia (Lavender) Extract, Borago Officinalis Extract, Centaurea Cyanus Flower Extract, Chamomilla Recutita (Matricaria) Flower/Leaf Extract Calendula Peeling Pad  Butylene Glycol, Calendula officinalis flower water , 1,2-Hexanediol, Dipropylene Glycol, Glycerin, Pentylene Glycol, Water, Citric Acid, Calendula Officinalis Flower, C12-14 Pareth-12, Water, Portulaca Oleracea Extract, Centella Asiatica Extract, Xanthan Gum Ammonium, Acryloyldimethyltaurate/VP Copolymer, Allantoin, Dipotassium Glycyrrhizate, Tetrasodium EDTA, Lavandula Angustifolia(Lavender)Flower/Leaf/Stem, Citrus Sinensis Peel Oil Expressed, Sodium Hyaluronate, Pinus Palustris Leaf Extract, Oenothera Biennis (Evening Primrose) Flower Extract, Ulmus Davidiana Root Extract, Pueraria Lobata Root Extract, Capryloyl Salicylic Acid, Gluconolactone Real Calendula Foam Cleanser Water, 1,2-Hexanediol, Hexylene glycol, Sodium Chloride, Lauramide DEA, Glycerin, Butylene Glycol, 1,2-Hexanediol, Sodium Lauroyl Sarcosinate, Calendula officinalis flower water, Cocamidopropyl Betaine, Disodium, Cocoamphodiacetate, Sodium Lauroyl Glutamate, PEG-120 Methyl Glucose, Dioleate, Citric Acid, Sodium Benzoate, Lavandula Angustifolia (Lavender) Flower/Leaf/Ste, Citrus Aurantium Dulcis (Orange) Peel OilSalix Alba (Willow) Bark Extract, Calendula Officinalis Flower Extract, Borago Officinalis Extract, Centaurea Cyanus Flower Extract, Beta-Glucan, Salicylic Acid, Panthenol, Lavandula Angustifolia (Lavender) Flower Extract, Chamomilla Recutita (Matricaria) Flower Extract Calendula Deep Moisture Essence Calendula Officinalis (Pot Marigold) Flower Water (80%), Glycerin, Water, 1,2-Hexanediol, Methylpropanediol, Butylene Glycol, Pentylene Glycol, Betaine, Xylitol, Sodium Hyaluronate, Sodium Hyaluronate Crosspolymer, Sodium Acetylated Hyaluronate, Hydroxypropyltrimonium Hyaluronate, Hydrolyzed Hyaluronic Acid, Lavandula Angustifolia (Lavender) Flower/Leaf/Stem Extract, Pueraria Lobata (Kudzu) Root Extract, Pinus Palustris (Longleaf Pine) Leaf Extract, Ulmus Davidiana (Japanese Elm) Root Extract, Oenothera Biennis (Evening Primrose) Flower Extract, Calendula Officinalis (Pot Marigold) Flower, Citrus Sinensis (Orange) Peel Oil Expressed, Allantoin, Polyquaternium-51, Glyceryl Acrylate/Acrylic Acid Copolymer, Acrylates/C10-30 Alkyl Acrylate Crosspolymer, C12-14 Pareth-12, Xanthan Gum, Tromethamine, Citric Acid Calendula Deep Essence Mask Water, Glycerin, Niacinamide, Methylpropanediol, 1,2-Hexanediol, Pentylene Glycol, Panthenol, Trehalose, Acrylates/C10-30 Alkyl Acrylate Crosspolymer, Arginine, Butylene Glycol, Betaine, Allantoin, Xanthan Gum, Sodium Polyacrylate, Polyglyceryl-10 Laurate, Polyglyceryl-10 Myristate, Dipotassium Glycyrrhizate, Adenosine, Ethylhexylglycerin, Disodium EDTA, Limonene, Melia Azadirachta Leaf Extract, Calendula Officinalis Flower Extract, Melia Azadirachta Flower Extract, Curcuma Longa (Turmeric) Root Extract, Sodium Hyaluronate, Centella Asiatica Extract, Aloe Barbadensis Leaf Extract, Hibiscus Sabdariffa Flower Extract, cimum Sanctum Leaf Extract, Corallina Officinalis Extract, Citrus Aurantium Dulcis (Orange) Peel Oil, Tocopherol, Ulmus Davidiana Root Extract, Pueraria Lobata Root Extract, Oenothera Biennis (Evening Primrose) Flower Extract, Pinus Palustris Leaf Extract
Calendula Peel Off Mask Water, Polyvinyl Alcohol, Alcohol, Dipropylene Glycol, 1,2-Hexanediol, Polysorbate 80, Calendula Officinalis Flower, Xanthan Gum, Citrus Aurantium Dulcis (Orange) Peel Oil, Lavandula Angustifolia (Lavender) Oil, Disodium EDTA, Juniperus Mexicana Oil, Amyris Balsamifera Bark Oil, Salvia Sclarea (Clary) Oil, Calendula Officinalis Flower Extract, Butylene Glycol, Caprylic/Capric Triglyceride, Calendula Officinalis Flower Oil, Lavandula Angustifolia (Lavender) Extract, Borago Officinalis Extract, Centaurea Cyanus Flower Extract, Chamomilla Recutita (Matricaria) Flower/Leaf Extract Calendula Peeling Pad  Butylene Glycol, Calendula officinalis flower water , 1,2-Hexanediol, Dipropylene Glycol, Glycerin, Pentylene Glycol, Water, Citric Acid, Calendula Officinalis Flower, C12-14 Pareth-12, Water, Portulaca Oleracea Extract, Centella Asiatica Extract, Xanthan Gum Ammonium, Acryloyldimethyltaurate/VP Copolymer, Allantoin, Dipotassium Glycyrrhizate, Tetrasodium EDTA, Lavandula Angustifolia(Lavender)Flower/Leaf/Stem, Citrus Sinensis Peel Oil Expressed, Sodium Hyaluronate, Pinus Palustris Leaf Extract, Oenothera Biennis (Evening Primrose) Flower Extract, Ulmus Davidiana Root Extract, Pueraria Lobata Root Extract, Capryloyl Salicylic Acid, Gluconolactone Real Calendula Foam Cleanser Water, 1,2-Hexanediol, Hexylene glycol, Sodium Chloride, Lauramide DEA, Glycerin, Butylene Glycol, 1,2-Hexanediol, Sodium Lauroyl Sarcosinate, Calendula officinalis flower water, Cocamidopropyl Betaine, Disodium, Cocoamphodiacetate, Sodium Lauroyl Glutamate, PEG-120 Methyl Glucose, Dioleate, Citric Acid, Sodium Benzoate, Lavandula Angustifolia (Lavender) Flower/Leaf/Ste, Citrus Aurantium Dulcis (Orange) Peel OilSalix Alba (Willow) Bark Extract, Calendula Officinalis Flower Extract, Borago Officinalis Extract, Centaurea Cyanus Flower Extract, Beta-Glucan, Salicylic Acid, Panthenol, Lavandula Angustifolia (Lavender) Flower Extract, Chamomilla Recutita (Matricaria) Flower Extract Calendula Deep Moisture Essence Calendula Officinalis (Pot Marigold) Flower Water (80%), Glycerin, Water, 1,2-Hexanediol, Methylpropanediol, Butylene Glycol, Pentylene Glycol, Betaine, Xylitol, Sodium Hyaluronate, Sodium Hyaluronate Crosspolymer, Sodium Acetylated Hyaluronate, Hydroxypropyltrimonium Hyaluronate, Hydrolyzed Hyaluronic Acid, Lavandula Angustifolia (Lavender) Flower/Leaf/Stem Extract, Pueraria Lobata (Kudzu) Root Extract, Pinus Palustris (Longleaf Pine) Leaf Extract, Ulmus Davidiana (Japanese Elm) Root Extract, Oenothera Biennis (Evening Primrose) Flower Extract, Calendula Officinalis (Pot Marigold) Flower, Citrus Sinensis (Orange) Peel Oil Expressed, Allantoin, Polyquaternium-51, Glyceryl Acrylate/Acrylic Acid Copolymer, Acrylates/C10-30 Alkyl Acrylate Crosspolymer, C12-14 Pareth-12, Xanthan Gum, Tromethamine, Citric Acid Calendula Deep Essence Mask Water, Glycerin, Niacinamide, Methylpropanediol, 1,2-Hexanediol, Pentylene Glycol, Panthenol, Trehalose, Acrylates/C10-30 Alkyl Acrylate Crosspolymer, Arginine, Butylene Glycol, Betaine, Allantoin, Xanthan Gum, Sodium Polyacrylate, Polyglyceryl-10 Laurate, Polyglyceryl-10 Myristate, Dipotassium Glycyrrhizate, Adenosine, Ethylhexylglycerin, Disodium EDTA, Limonene, Melia Azadirachta Leaf Extract, Calendula Officinalis Flower Extract, Melia Azadirachta Flower Extract, Curcuma Longa (Turmeric) Root Extract, Sodium Hyaluronate, Centella Asiatica Extract, Aloe Barbadensis Leaf Extract, Hibiscus Sabdariffa Flower Extract, cimum Sanctum Leaf Extract, Corallina Officinalis Extract, Citrus Aurantium Dulcis (Orange) Peel Oil, Tocopherol, Ulmus Davidiana Root Extract, Pueraria Lobata Root Extract, Oenothera Biennis (Evening Primrose) Flower Extract, Pinus Palustris Leaf Extract
Customer Reviews
Write a Review
Ask a Question
07/03/2020
Maria M.
United States
06/26/2020
Esther S.
United States
06/23/2020
Millie G.
United States
06/21/2020
Clara
United States
06/17/2020
Trixia C.
United States
06/07/2020
Kristine C.
United States
05/25/2020
Sabrina B.
United States
05/10/2020
Brittany D.
United States
I really love this set and I've only been using it for about a week and a half. I've definitely noticed a difference in the quality of my skin in this short amount of time. I have combination skin, so the peeling mask really drew me in. I'm so glad I decided to get the entire Calendula line. The foaming cleanser is very gentle and I was surprised by how gentle the brush is. The peeling pads are probably my second-favorite in this line; they make my skin feel fresh and soft. The moisturizer is a great finish as well, my only complaint bring that it dries a bit tacky and after a while makes my skin feel tight. I don't feel like it's enough of a problem to outweigh the huge boons this set has, though. The peeling mask is my favorite out of everything. It's so gentle and I can't wait to continue using it and see how my skin improves with it's help. When I was looking at the ingredients of these products I was worried that they were going to have a strong aroma, but I'm really happy with the subtle citrus and floral scent. It's not a problem at all. I have little to no complaints for this line. Again I've only been using it for a short amount of time but the improvements in my skin quality already is amazing. Even my partner has noticed the improvements. I'm so excited to continue using this set. I feel like I really lucked out and finally found something that works for my skin.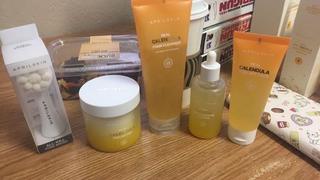 YL
06/28/2020
Yia L.
United States
New favorite skin care!
I absolutely love using Aprilskin. It leaves my skin so smooth!
06/27/2020
Danasia P.
United States
So Consistent
I have been using the Calendula Set along with other Aprilskin products for close to 9 months or so now and I can definitely say these are worth the buy. Each my skin gets more and clear. I have fewer breakouts and the breakouts I do have go away quickly. A lot of the discoloration I had has been fading and I feel like my skin is getting healthier and healthier. When used properly these products can truly make a difference in your skin.
06/25/2020
Marjoreen S.
United States
So far so good
I love the smell. And the toner, it really removes dirt and the mask, I cannot tell if it removes any white heads or dirt maybe I did it wrong. But my skin got softer. I will keep using these products.