The Carrot Blemish Serum is a clinically tested non-comedogenic serum that harnesses the power of carrots to banish blemishes and whiteheads from the face of…your face! It stops the acne cycle in its tracks and speeds up the skin cell renewal cycle instead, helping to heal your current agitated skin while also preventing future breakouts. Turn up the brightness and smoothness levels on your face IRL. Forget apples, a carrot a day will keep the dermatologist away!
You know those pesky little bumps beneath the surface of your skin? Those aren't just clogged pores, they're actually a type of acne blemish called closed comedones, a.k.a. whiteheads (not to be confused with papules or pustules, which are the type of acne with juicy, poppable white heads). If you've got them, then you've got the beginning stages of acne brewing under your skin, sneaky bastards! But no worries, because you've got Carrot Blemish Serum to swoop in and save the day!
---
Banishes Blemishes
3 carrot-derived ingredients erase blemishes and acne, especially whiteheads
Brightening
Niacinamide brightens skin tone and fades hyperpigmentation
Soothing & Hydrating
Clinically proven safe for acne-prone skin due to 5 Hyaluronic Acids that calm irritations
---
Use AM and PM, after toner and cleansing
Pump 1- 2 times and gently spread across the face from the center outwards
Apply 2-3 more layers on especially tired and sensitive areas
---
In a 4-week clinical study of men and women ages 14-40:
Oil levels were reduced by 50%

Number of whiteheads was reduced by 50%
Number of blackheads was reduced by 40%
100% said they were satisfied with the product overall
100% said they would buy the product
100% would recommend the product
In a consumer survey taken by men and women ages 14-40 after 4 weeks of daily use:
100% said they felt NO skin irritations
95% said it was moisturizing
98% said it was soothing
92% said it refined skin texture
90% said it brightened skin tone
---
No Sulfates
No Parabens
No Irritations
No gluten
No toxins
No Artificial Fragrances
---
Contains 3 different carrot derived ingredients sourced from certified organic carrots that would even make Bugs Bunny jealous
Carrot Water: Extracted from 100% pure carrots grown and harvested on the lush Korean island of Jeju, known for its clean air and clear oceans
Carrot Seed Oil: 10,000ppm of premium grade extra virgin oil rich in Beta-Carotene and Vitamin A, a brilliant tag team that wrestles free radicals, smashes out irritations, and pumps up the moisture
Carrot Proteins: Found in carrot cell walls, they are packed with natural skin-friendly moisturizers that instantly absorb into your skin, drinking it all up like my boss at happy hour
A form of Vitamin B3, Niacinamide is the Wonder Woman of vitamins
Fights free radicals like a boss and strengthens the skin barrier to keep it firm and healthy
Fades hyperpigmentation, dark spots, age spots, all the spots – you'll go from dalmatian to golden lab in no time
Soothes any redness like rosacea and acne so your skin will be as calm as a Zen master
Regulates oil so YOU will be shining like the star you are, not your face
Hyaluronic Acid & Plant Oils
Hyaluronic Acid and various plant oils known for their hydrating and soothing properties team up to calm inflammation and irritation, leaving your skin looking bouncy and plump like a cherub's cheek
Hyaluronic Acid: Gives you that dewy glow so you can skip the Insta-filters and take your #wokeuplikethis shots for real
Gotu Kola: An ancient herb with healing powers like Wolverine to help you get rid of scars, acne, and then some
Chameleon Leaf: An acne bacteria fighter and free radical scavenger rolled into one
Tea Tree & Eucalyptus Oils: Purify your tormented skin like a shamen casting out demons, the demons of blemishes, spots, and breakouts!
---
Full Ingredients
Water, Butylene Glycol, Glycerin, 1,2-Hexanediol, Niacinamide, Cetyl Ethylhexanoate, Daucus Carota Sativa (Carrot) Seed Oil, Propanediol, Cetearyl Olivate, Sorbitan Olivate, Carbomer, Tromethamine, Houttuynia Cordata (Chameleon Leaf) Extract, Ethylhexylglycerin, Disodium EDTA, Citrus Aurantium Bergamia (Bergamot) Fruit Oil, Sodium Hyaluronate, Hydrolyzed Hyaluronic Acid, Hyaluronic Acid, Hydrolyzed Extensin, Eucalyptus Globulus Leaf Oil, Pogostemon Cablin (Patchouli) Oil, Melaleuca Alternifolia (Tea Tree) Leaf Oil, Daucus Carota Sativa (Carrot) Root Water, Centella Asiatica (Gotu Kola) Extract
Customer Reviews
Write a Review
Ask a Question
02/16/2020
Jia
United States
02/06/2020
Eva R.
United States
01/23/2020
Dilisha D.
United States
01/21/2020
Estefania A.
United States
01/20/2020
Alondra
United States
01/12/2020
Averee J.
United States
01/10/2020
Keyrstin O.
United States
11/26/2019
Tin P.
United States
I recommend this product
HOLY GRAIL!!!!
This product is magic in a bottle. It helps soothe while moisturizes my skin and calms down acne. I've already seen a my acne scars fade after 1 week of using. The texture is so smooth and moisturizing that my skin is soaked but it also absorbs quickly. It gives me a nice glow after application. Will continue purchasing!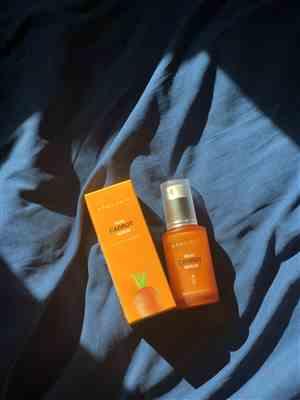 02/21/2020
Brittni C.
United States
worth it.
my sink ia brighter and clearer. it feels great.
02/20/2020
Zere
United States
A great serum
The serum helped my breakouts , and made them less frequent. The bumps under my skin became better, but did not vanish yet. I will definitely recommend and will be purchasing this again, along with the calendula set.
02/20/2020
Angela R.
United States
Love it!! It softens and shrinks pores!!
Love it, it works on my skin. My skin feels so soft and tender that I cannot help but touch my skin again to feel that softness! I look at the mirror and noticed that my pores are smaller than before, this product will be my favorite one to use in the future!!
02/19/2020
Anne
United States
Skin feels refreshed and glowing!
I have very sensitive skin, and have been breaking out alot. I've only used this for one day, but I can already see the impact of it the next morning! Skin feels refreshed, and it didn't cause any breakouts! Hoping to see more improvement the next following weeks!!