Customer Reviews
100
reviewers would recommend this product
Write a Review
Ask a Question
01/13/2020
Abby
South Korea
01/11/2020
KT
United States
I recommend this product
The best skin care tool I've ever bought
I can't say enough good things about this brush. I received it as part of a set but feel the need to review this separately! The silicon/rubber side of the brush has made a world of difference in my t zone. Easily got out stubborn blackheads and congestion. I even had some black heads or just clogged pores around my lips that I have never been able to treat effectively (Seriously, years of trying to get rid of these) and after only a week of using this they are all gone. I am so happy to have found something that works this way. I also love the bristle side of the brush. Super soft on the skin and allows you to use less cleanser because it creates such an intense lather that your whole face can be easily cleansed with just a tiny bit of cleanser. My skin is reactive and often sensitive and I have had no issues with this being too harsh. So gentle but so effective. I also love that this can stand on the counter without falling over so that it can dry easily and stay clean because it isn't touching anything as it dries.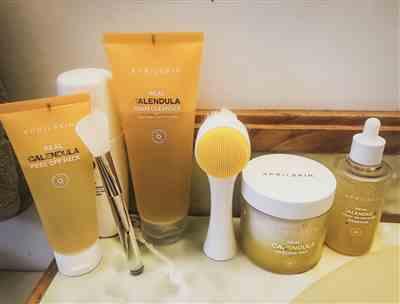 01/26/2020
Delaney
United States
I recommend this product
THIS BRUSH IS AMAZING
This brush is the best thing ever omg it is SO SOFT on your face it doesn't even feel like a brush. The bristles (which don't feel like bristles) foam your cleanser so well you don't need to use that much so your cleanser lasts longer. I use the soft side for an initial cleanse and then the exfoliating side to clear away dead skin, whatever the soft side got out of my pores, and to clean off the foam from my cleanser. After rinsing out the brush I go through and do one last sweep with the soft side with just water for a final rinse. One last rinse and squeeze and then I stand the brush up on the side of my sink to dry. I've noticed my pores are smaller and my face truly does feel like all the dirt and grime is out of my pores. Then I use the carrot serum while my face is completely clean for max absorption. I am so happy I bought this brush!
11/29/2019
Theresa B.
United States
I recommend this product
Gift
This is a gift for a young granddaughter
I love using the brush with my normal cleansers. It helps me get deeper dirt and the bristles are super soft.
It's not bad! I like how it feels on my skin! Really soft.
I really love it!! My skin gets way cleaner after using it!
Super soft yet it cleans deep. It gets all my leftover make up off and leaves my skin soft. Would reccomend
this brush is easy to handle and store, unlike other brushes that can't stand on its own.
It was super great best thing ever for my face !!
I really like how soft the bristles on the brush are. It's almost like cotton. Very gentle. Just got mine yesterday and used it twice already. Id buy this for all my friends to use. I use the brush side to massage my problem areas around my nose and chin and the silicon side for my cheeks and forehead. The brush is even soft enough to use on the eyelids. My last brush I received in a package deal from a high end store was almost like needles. So glad bbn I found this one. I'm going to buy another one for my travel bag. The only thing I would change about this is maybe a longer handle and definitely a loop of rope or string to hang this to dry.
I love everything about this face brush. The two sides are perfect. The bristle side has a dense coverage of bristle that have stayed firmly attached. The bristles are also very soft. The other side has short snubby rubbery nubs. I use that side to help in all my problem areas such as my jaw line and t-zone. I have noticed a definite improvement in the smoothness of my skin. I also really appreciate the wide angle flat bottom on the handle. It is wide enough that one can use it to stand the brush up in the bathroom which allows that brush to dry thoroughly and stay clean. It is quite balanced so I haven't had issues with the brush falling over. I ordered two the first time. When and if they should wear out I would definitely purchase these again.
Its my first time that I have ever used any cleansing brush on my skin. My skin is really sensitive and after spending a lot of money on my skin care regime, I could have afforded a fancy cleansing tool from Sephora etc, but I am a pharmacist and I didn't find any satisfactory reason while researching to invest in those tools for myself. I dont wear extensive make up on daily basis so that's another reason. All in all I wanted something to help me cleanse my face gently every morning and before bed. The backside is kind of a messaging or polishing tool. It's super relaxing and helped me a lot to take my blackheads off. Definitely would repurchase this product
Saw a huge improvement on my skin after my first use. My skin feels smoother and I feel like my wrinkles looked less noticeable. Will definitely recommend this to my friends