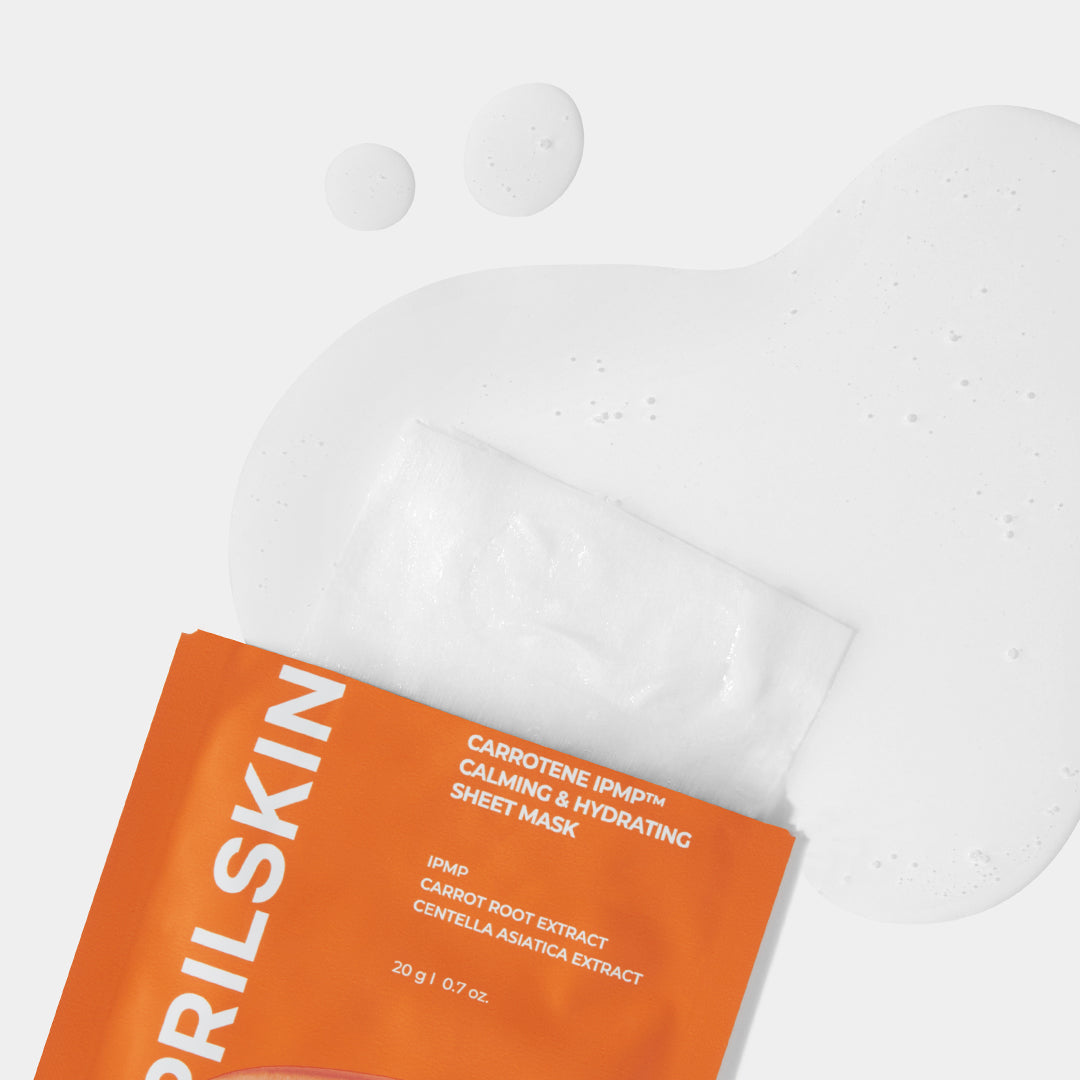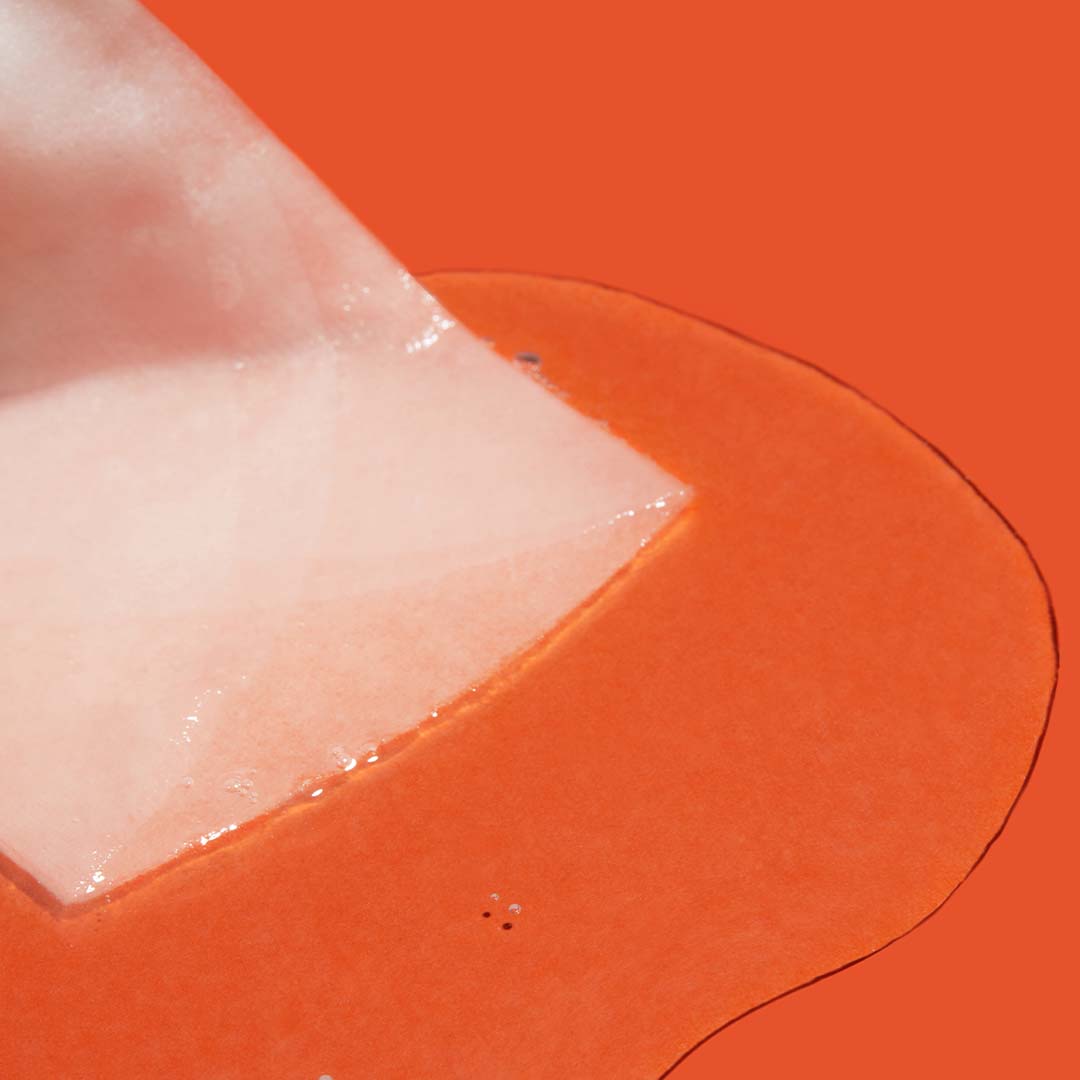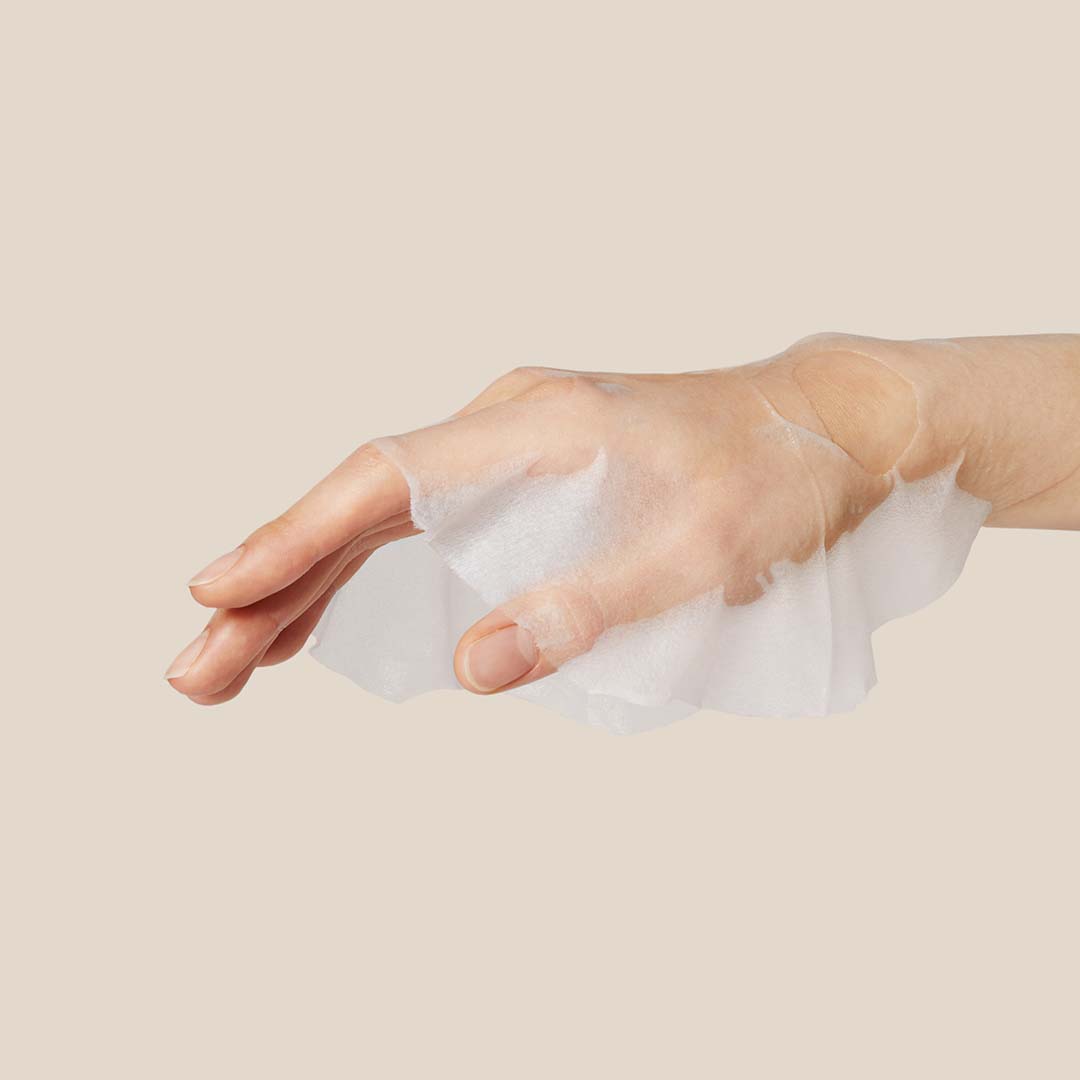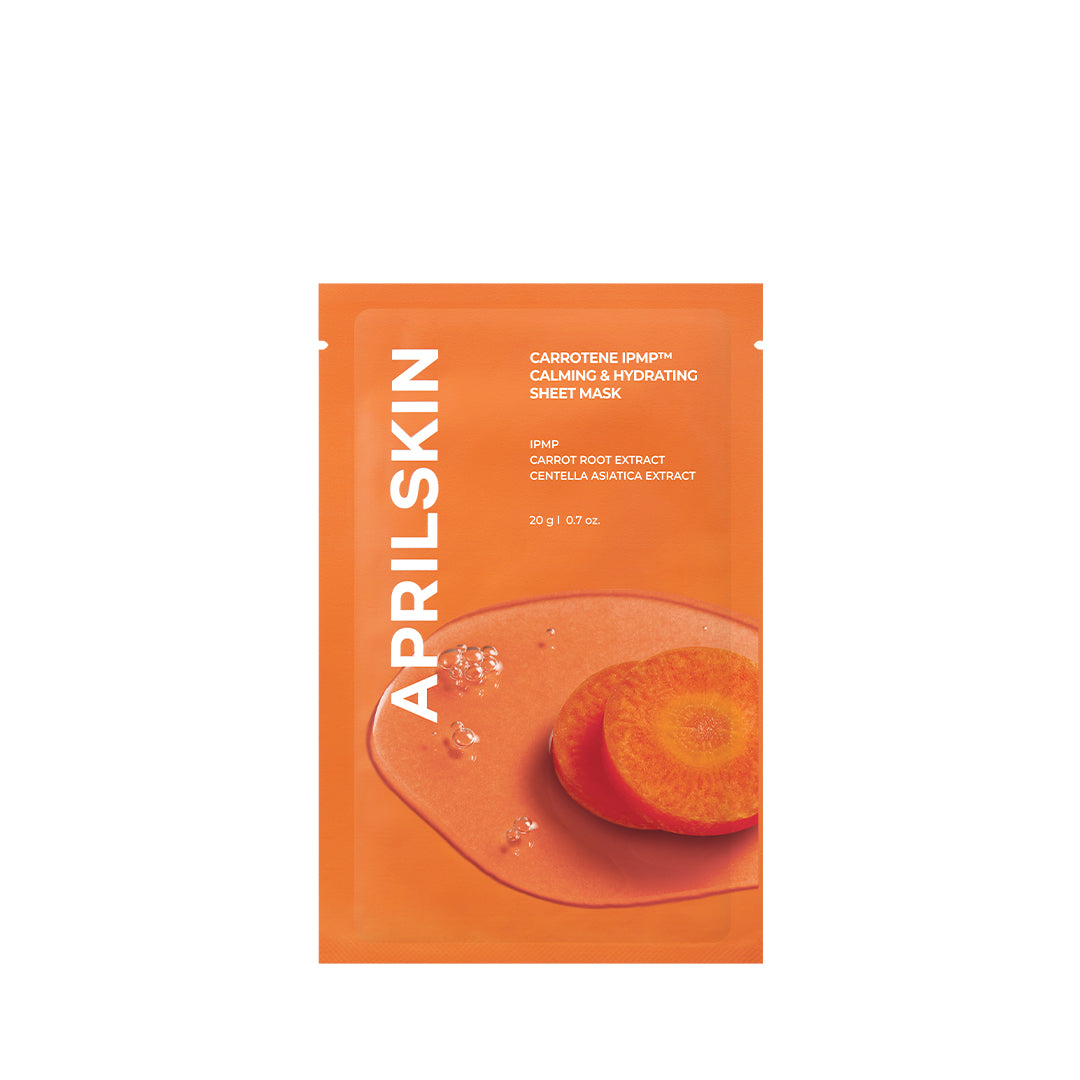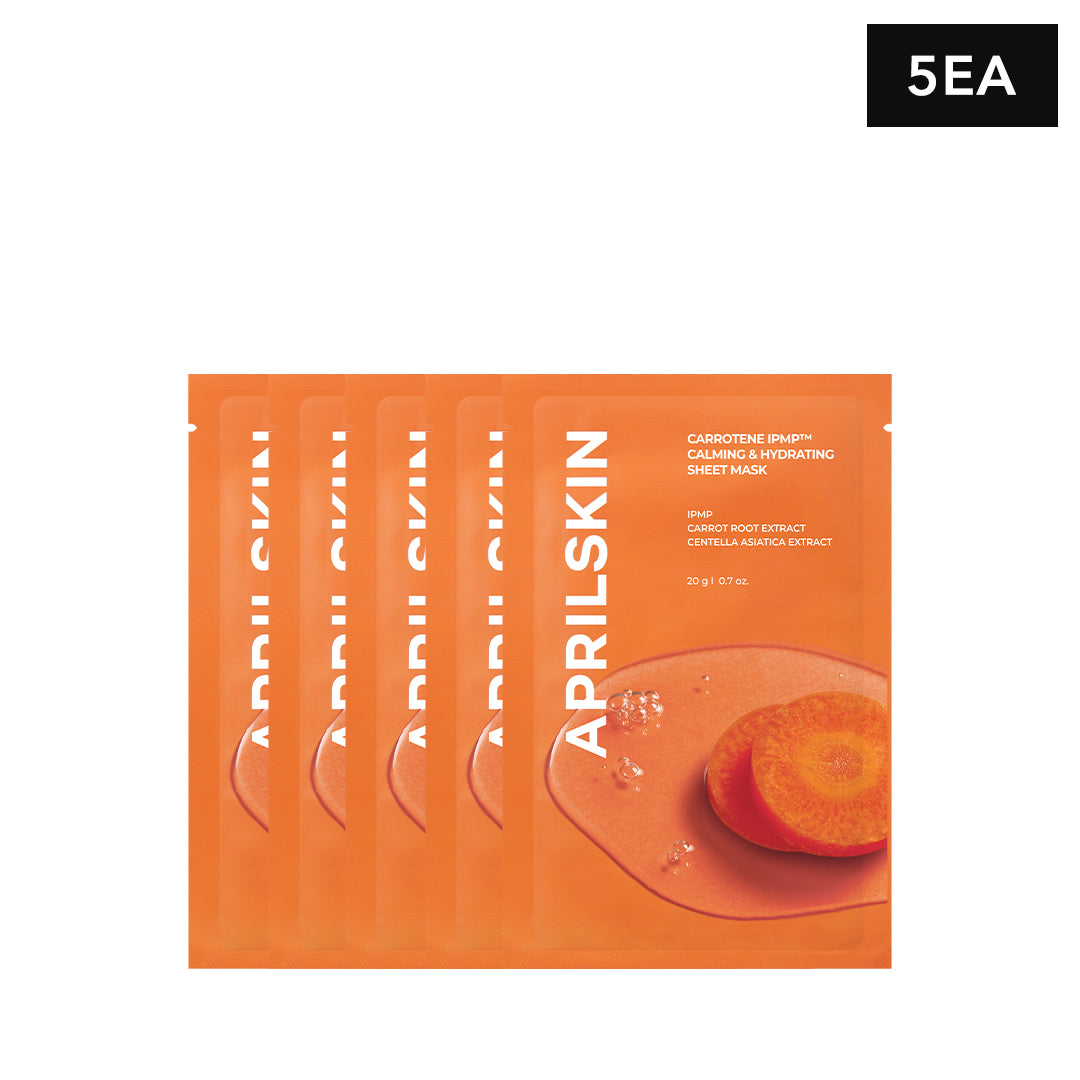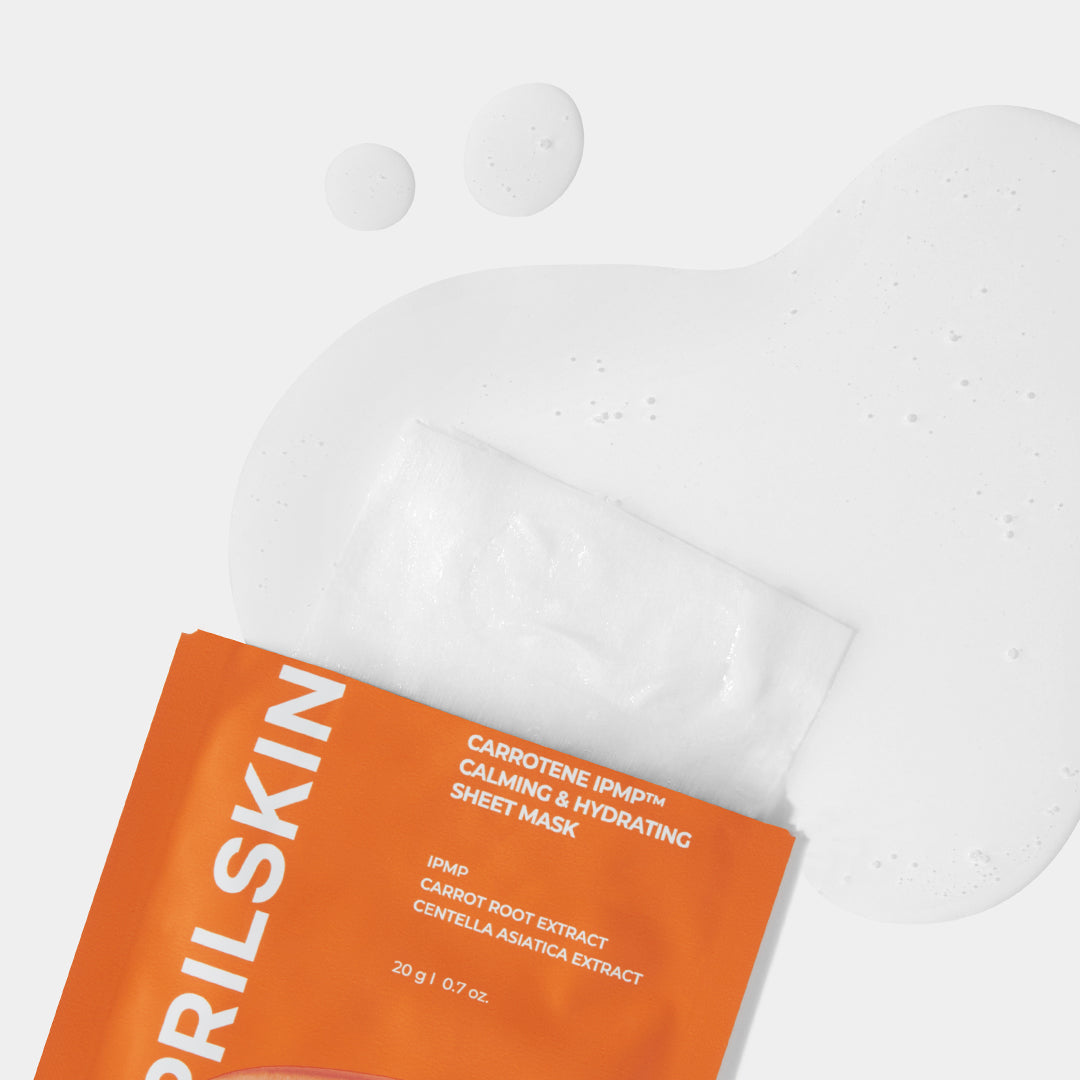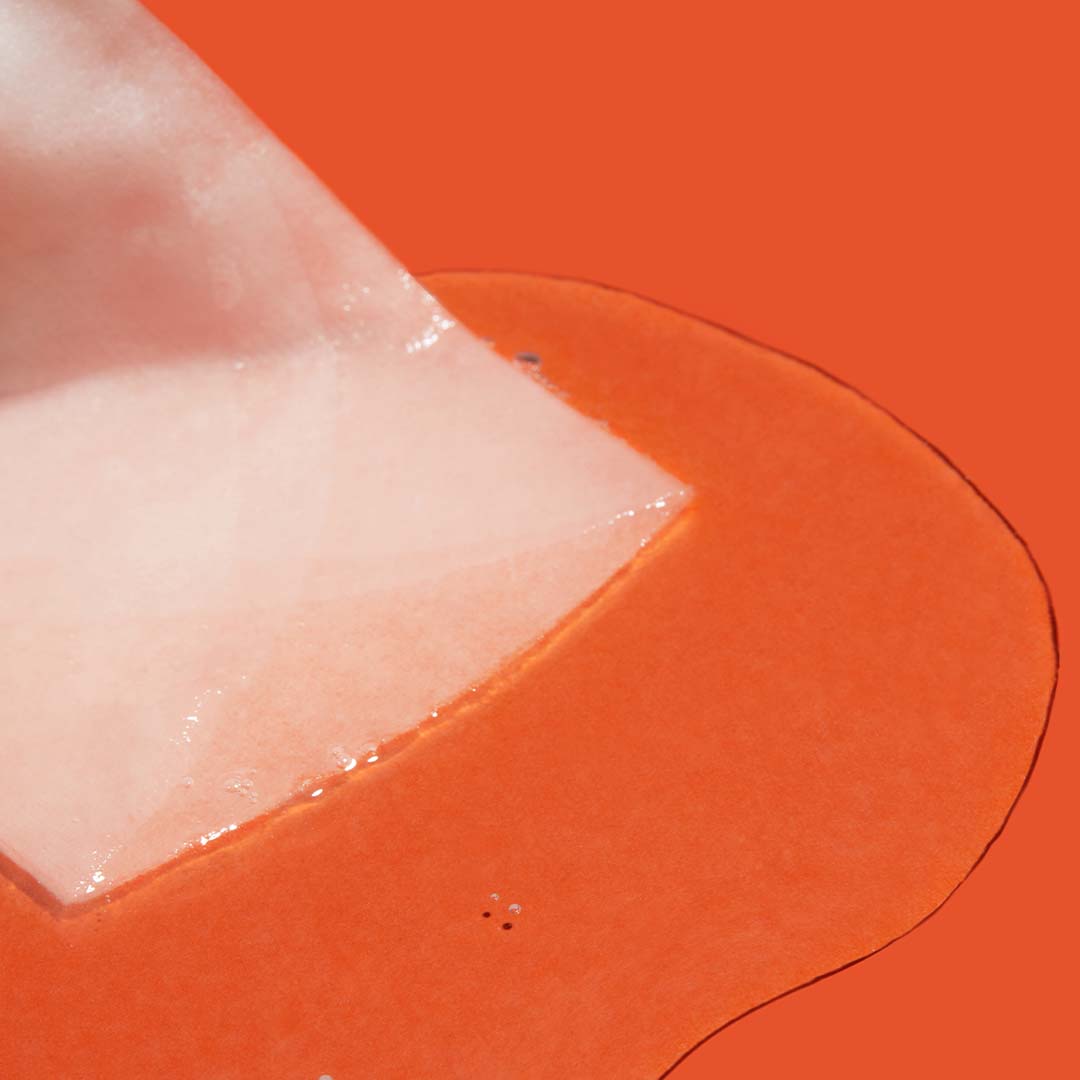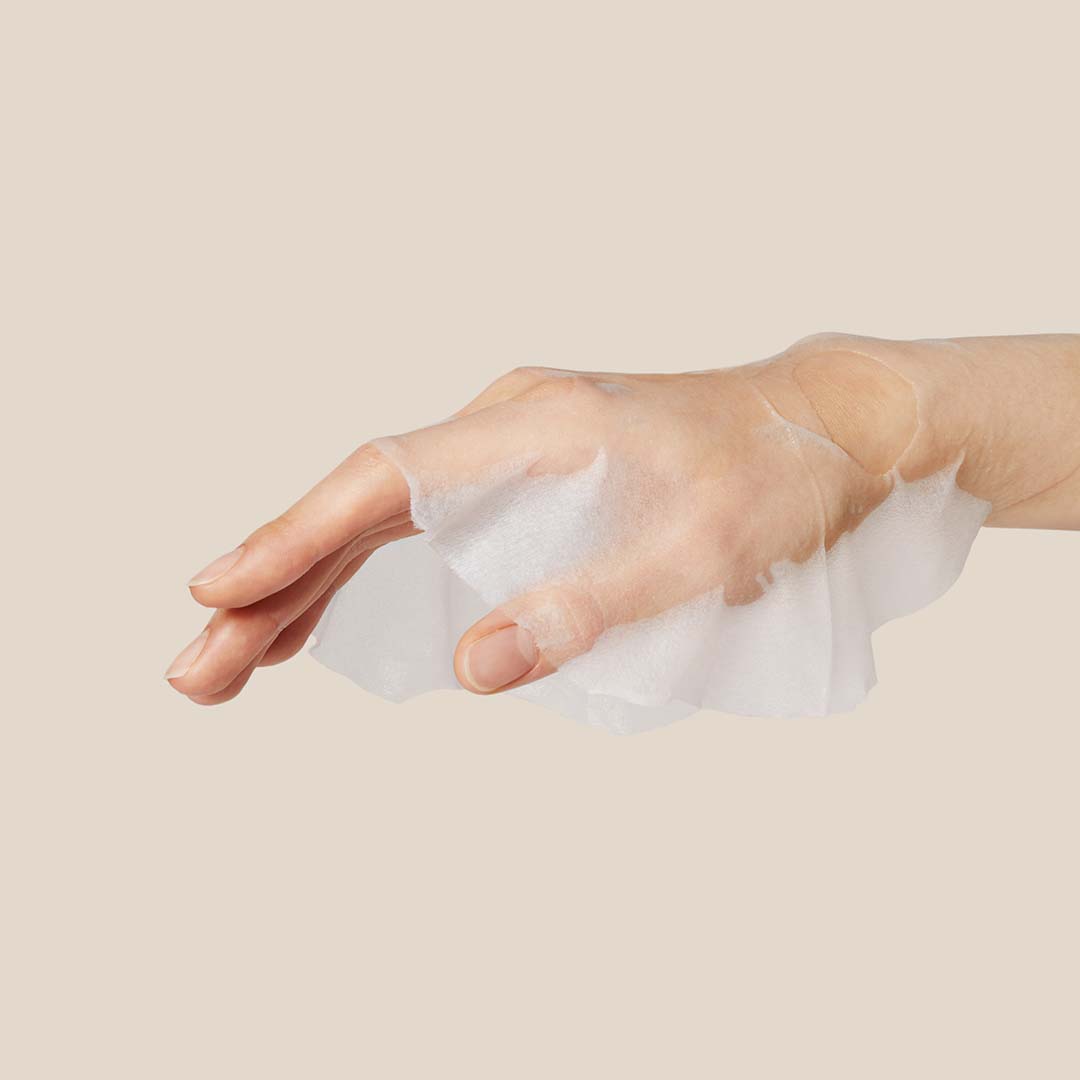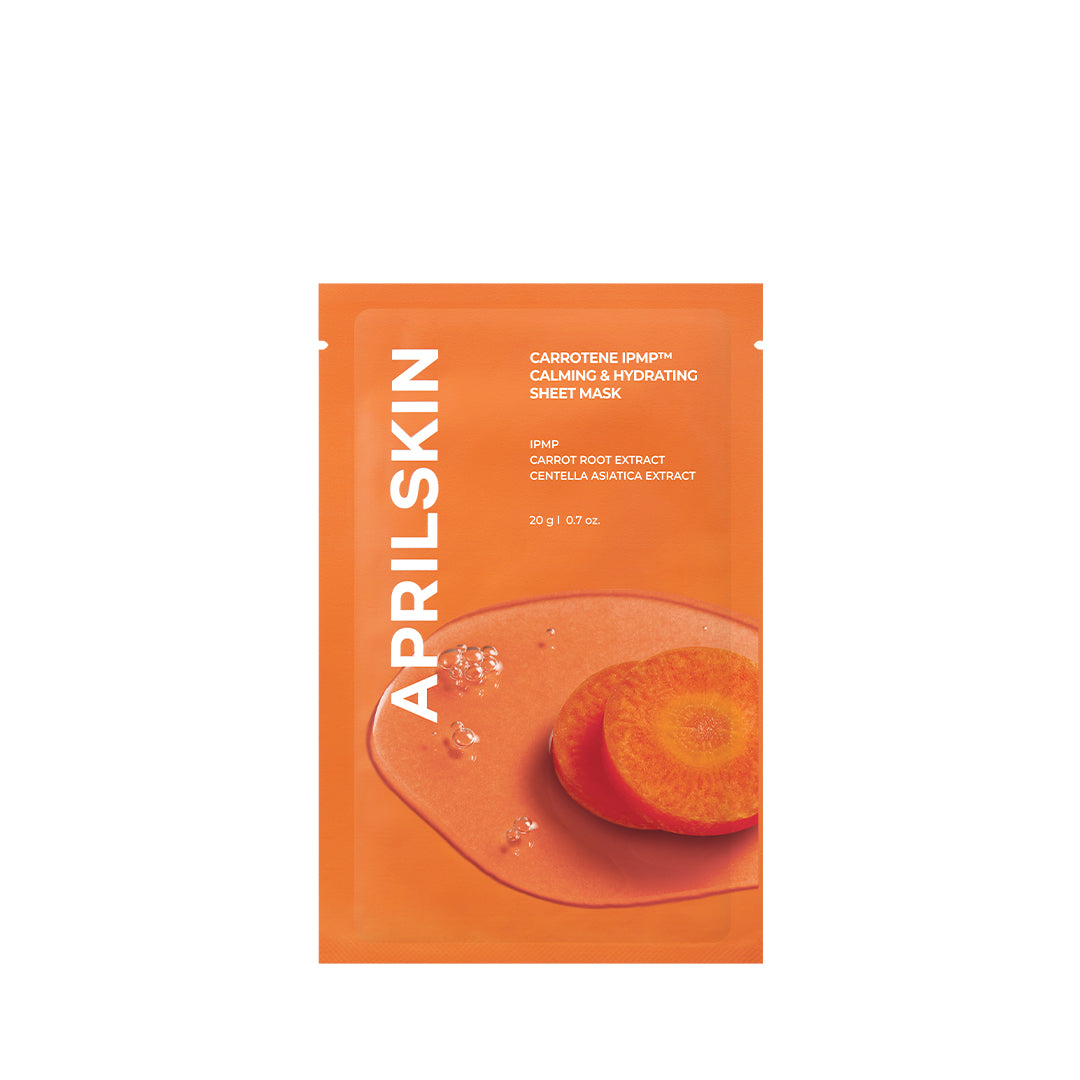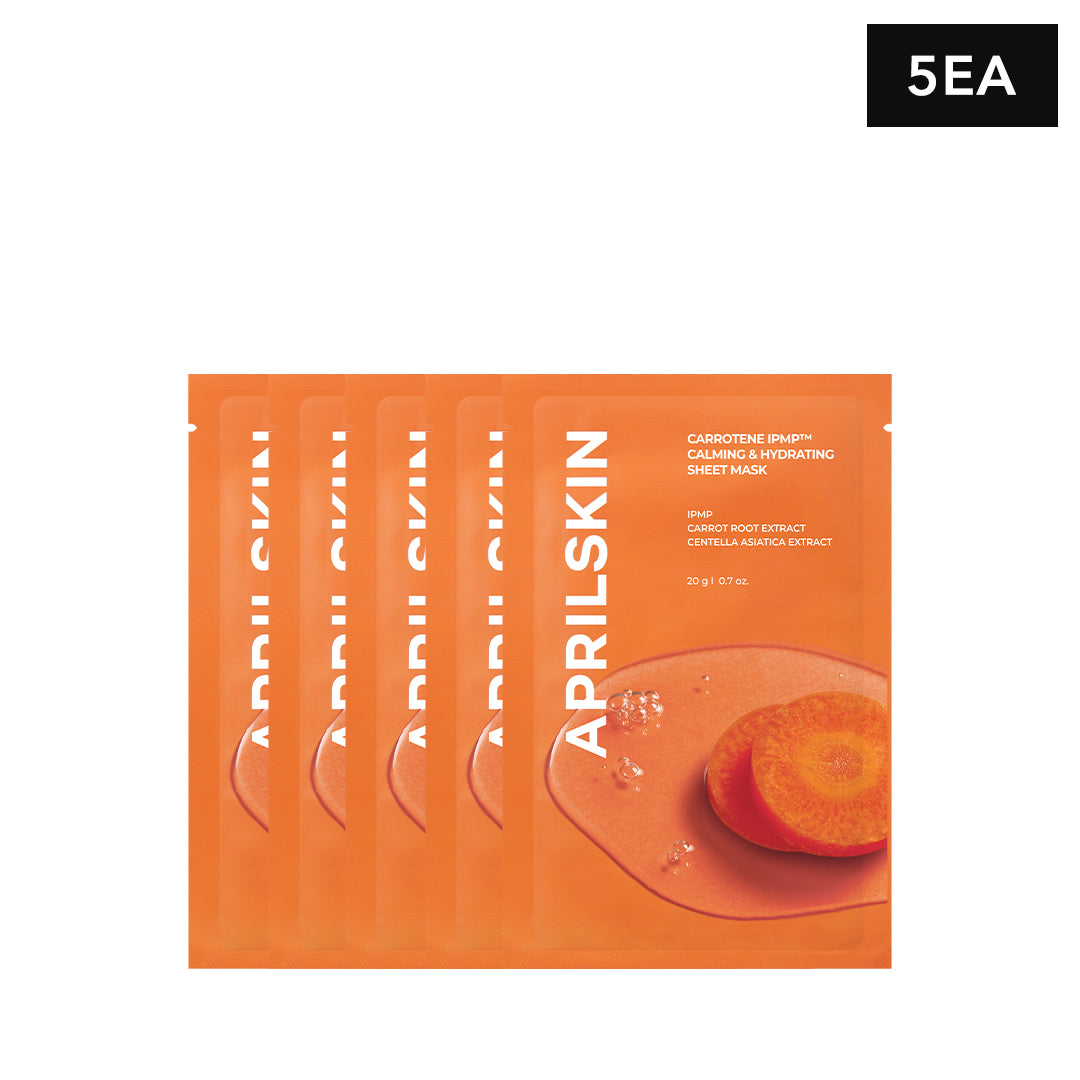 Carrotene IPMP™ Calming & Hydrating Sheet Mask
Carrot Root Extract+Panthenol+Beta-carotene
The Angry Breakout Soother
Rapid Relief Cooling Sheet Mask - 20g | 0.7 oz.
WHAT IT IS




• Call 911 for your skin! Carrotene IPMP™ sheet masks will get your skin back on track for your special occasions in 10 minutes!
• The Original Carrotene IPMP™ soothes inflammation and irritation. Panthenol, Madecassoside, and Centella hydrate and regenerate your skin, keeping your skin in tip-top shape, ready for any occasion.

---
WHY IT'S SPECIAL




Breakouts occur when it's too dry, oily, heated, or irritated!
No need to worry. This mask has got your back!

STEP 1. IPMP™ and Beta-Carotene effectively eradicate acne-causing bacteria and dirt with excellent anti-inflammatory effects.
STEP 2. The lyocell sheet, a eucalyptus extract fabric, adheres closely to soothe skin and lower skin temperature.
STEP 3. Panthenol provides moisture and Madecassoside & Centella help strengthen the skin barrier.
---
WHO NEEDS IT




Anyone with skin concerns below:
• Those who have rough skin due to pimples and millet bumps.
• Those with redness due to a rise in skin temperature.
• Those who need a soothing mask to soothe breakouts.
---
Hero Ingredient
Carrotene IPMP™
Carrotene IPMP™ may sound unfamiliar, but you most likely have Carrot and Thyme on your table already.
Inspired by organic carrot and fresh thyme leaves, APRILSKIN's Carrotene IPMP™ fights acne in a way never seen before.
Beta-Carotene, rich in Carrot Root Extract, and Thymol, rich in Thyme, have potent anti-inflammatory effects that instantly soothe red and painful acne.
Additionally, it helps to suppress acne-causing bacteria in the pores which smoothes and softens bumpy and uneven skin texture.
Claims:
Vegan, Cruelty-free, Noncomedogenic, Hypoallergenic, Recyclable packaging
No Artificial colorants, No Artificial fragrance, No Micro-plastic, No Parabens, No Phthalate, No Sulfates, No Alcohol, No Gluten
How to use
1. Prep skin with toner after cleansing.
2. Unfold the mask and place it on the face, avoiding the eye and mouth area.
3. Leave the mask on for 15 to 20 minutes.
4. Remove and gently pat your skin to absorb the remaining essence.

Tips: Place mask in the refrigerator before use to enhance the cooling and soothing effects.
Water, Butylene Glycol, Glycerin, Dipropylene Glycol, 1,2-Hexanediol, Hydroxyacetophenone, Carbomer, Butylene Glycol, Daucus Carota Sativa (Carrot) Root Extract, Allantoin, Arginine, Hydroxyethylcellulose, Xanthan Gum, Polyglyceryl-10 Laurate, Ethylhexylglycerin, Disodium EDTA, Panthenol, Eucalyptus Globulus Leaf Oil, o-Cymen-5-ol, Cyclodextrin, Madecassoside, Centella Asiatica Extract, Helianthus Annuus (Sunflower) Seed Oil, Beta-carotene
What's in it?

Carrotene IPMP™

APRILSKIN's new zit-fighting formula. Carrotene IPMP™ in combination with Beta-Carotene and Thymol has strong anti-inflammatory effects that instantly soothe red and painful acne.

Panthenol

Vitamin B5 rapidly increases the moisture content of the skin while effectively soothing sensitivity.

Madecassoside & Centella

To cure injuries, tigers are known to rub wounds with Centella Asiatica, hence giving it the nickname 'tiger grass'. Madecassoside & Centella are known to be effective in relieving inflammation and soothing skin.
FAQ

I just popped my acne. Is it ok to use after extraction?
Yes, Carrotene IPMP™ Calming & Hydrating Sheet Mask is clinically tested as Hypoallergenic. When used with Carrotene IPMP™ Clearing Solution, this mask will effectively soothe your skin right after extraction

I have acne-prone/ sensitive skin. Can I use this product?
Of course! This product has been tested dermatologically on all types of skin for skin safety. As a certified non-comedogenic skincare product, its light yet moisturizing texture does not block your pores, making it perfect for acne-prone skin. Please avoid using the product on open wounds.

How often can I use this product?
You can use it once a day every day. Try using it right after showering or before going to bed when 1. your face gets hot after outdoor activities and 2. when your skin feels wrinkled and dull before an important occasion.